Ask a teenaged boy about his collection of "kicks" and learn all kinds of details about how to care for shoes, not crease them, keep the bottoms from scuffing, make them look like they're fresh out of the box every time they're worn…
Talk to the mom of a little girl who has an older cousin that hands down adorable shoes to a family who loves shoes already. The number of pairs in her collection is higher than the number of centimeters she is tall.
Once upon a time, people talked about the different hats they wear as a metaphor for the different roles they play in life. Now, there's a pair of shoes (or three) for each role: fitness, professional, casual public, casual at home, special event invitee, inclement weather, dancing, standing, trending, making a statement… So, now that we've established that shoes are vital and that people of all ages and walks of life have multiple pairs – the question remains, why does shoe storage matter? For the organized individual, it's a no-brainer, but what about those who land on the less structured end of the continuum? Why should you be motivated to keep reading an article about shoe storage? Three words: protect your investment.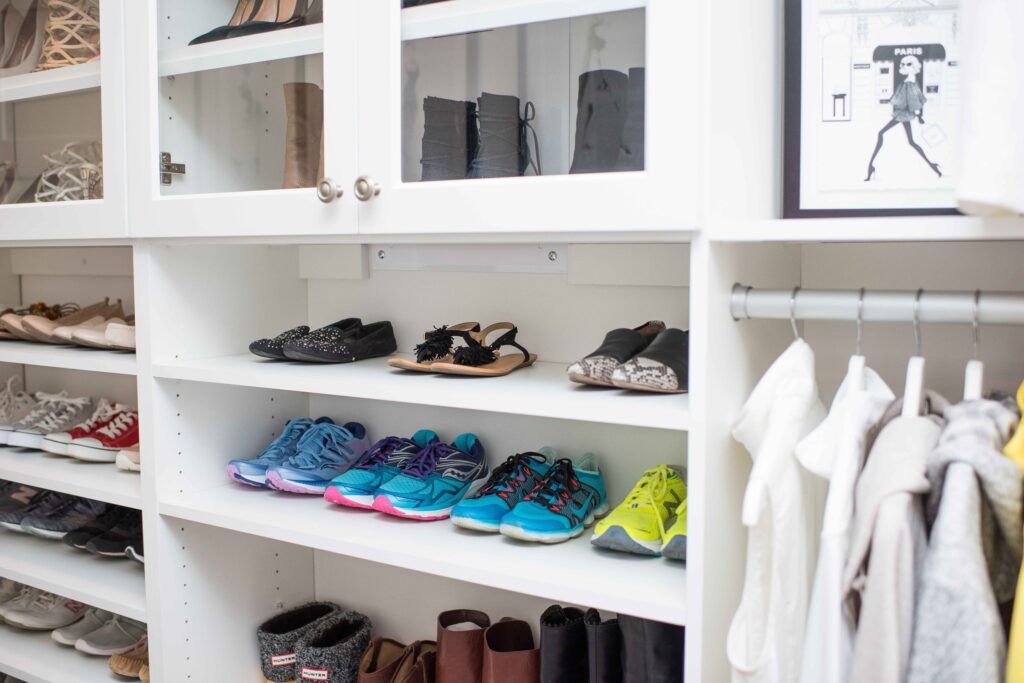 ---
Protect Your Shoe Investment
Some sneakers increase in value over time, even though they're used and have been worn by someone else, provided they remain in great shape. Some shoes could last you a lifetime if you keep them in good condition, making the price worthwhile in the long run.
Proper shoe storage extends the life of the shoe and keeps it looking fresh much longer than those tossed in a basket and scuffed against each other.
---
Space Saving Shoe Closets
Why not store shoes in their boxes? If all shoe boxes were the same size and shape, that might be a viable option. However, the different sizes create a tetris-style stacking conundrum and make it difficult to retrieve individual pairs in the middle of the stack.
Proper shoe storage saves space. For example, instead of lining your shoes up in the floor of your closet, your shoe cabinet could go vertical with shoe shelves that allow for one narrow cubby per pair. This type of vertical storage eliminates the space taken up by boxes while still allowing you to easily grab a specific pair of shoes. A one-step put away system makes it more likely that you'll keep your shoe closet organized and protect your investment.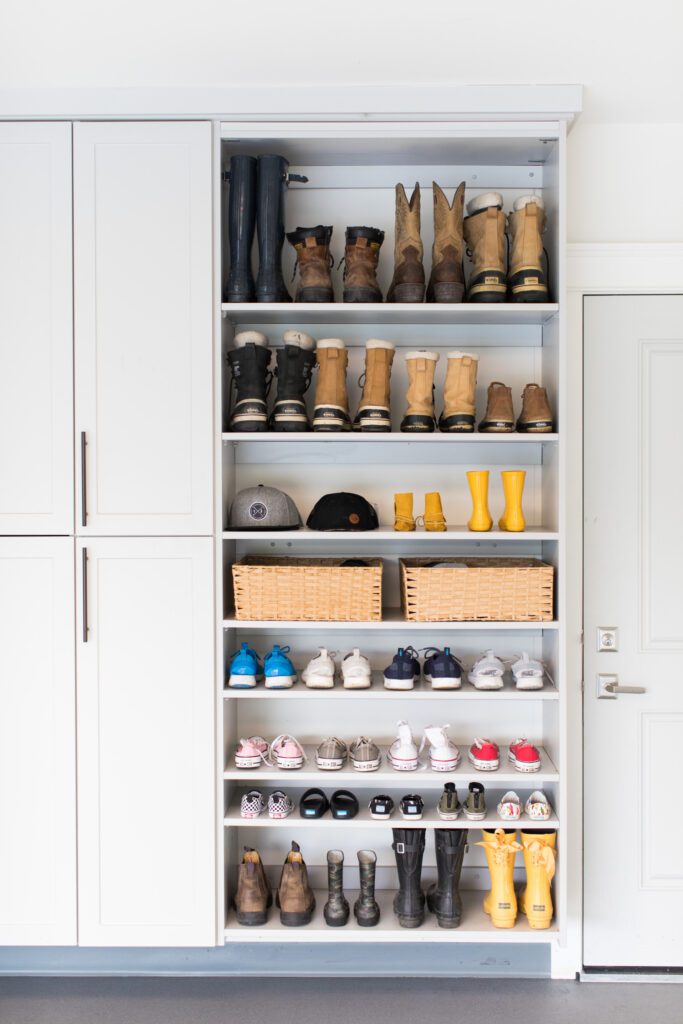 ---
Keep Your Home Clean
Let's be honest. Most of the dirt and debris that comes inside your home arrives on the bottom of shoes. A shoe rack in the mudroom or shoe cabinets in your garage, depending on the most frequently used entry, protect your shoes as well as your flooring investment and keep your home free of all the tracked-in grit and grime. That's a win for everybody.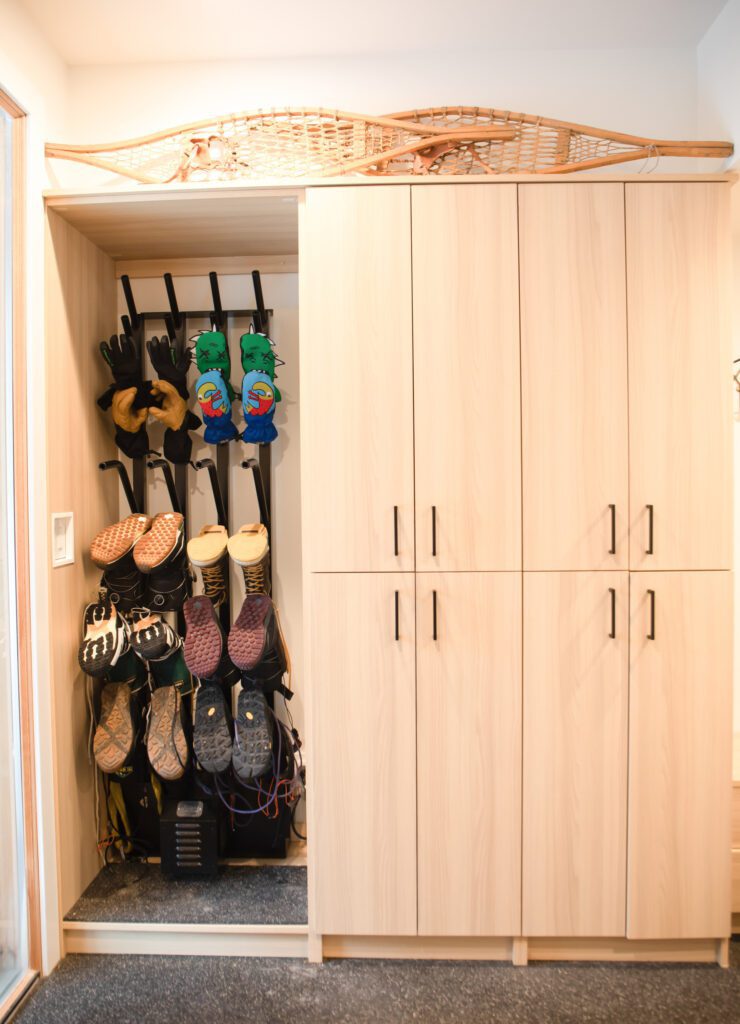 ---
Stay Organized with Stor-X Shoe Accessories
In addition to the ability to design custom mudrooms and custom shoe closets, Stor-X can help you organize your shoes with a variety of shoe storage accessories. Arrange by colour, occasion, frequency of use, or value with narrow shelving, shoe fences, or a shoe organizer. Staying organized gives you a sense of pride, protects your investment, and makes it easy to find exactly what you're looking for when you need it. If you've ever discovered a pair of shoes you had forgotten you owned while cleaning out a closet, you understand the value of keeping your shoes organized.
---
Show Off Your Shoe Collection
The downside of collecting great shoes is that you can only show off one pair at a time unless…
Imagine a walk-in closet designed to highlight your shoe collection. Walls of shelving and shoe fences display individual pairs of shoes with the focus and protection they deserve. You can see all your precious pairs in one glance; so can anyone you invite to this sanctuary of soles. Or feature it on your social media accounts with the hashtag of your choice to show the world how much you love shoes.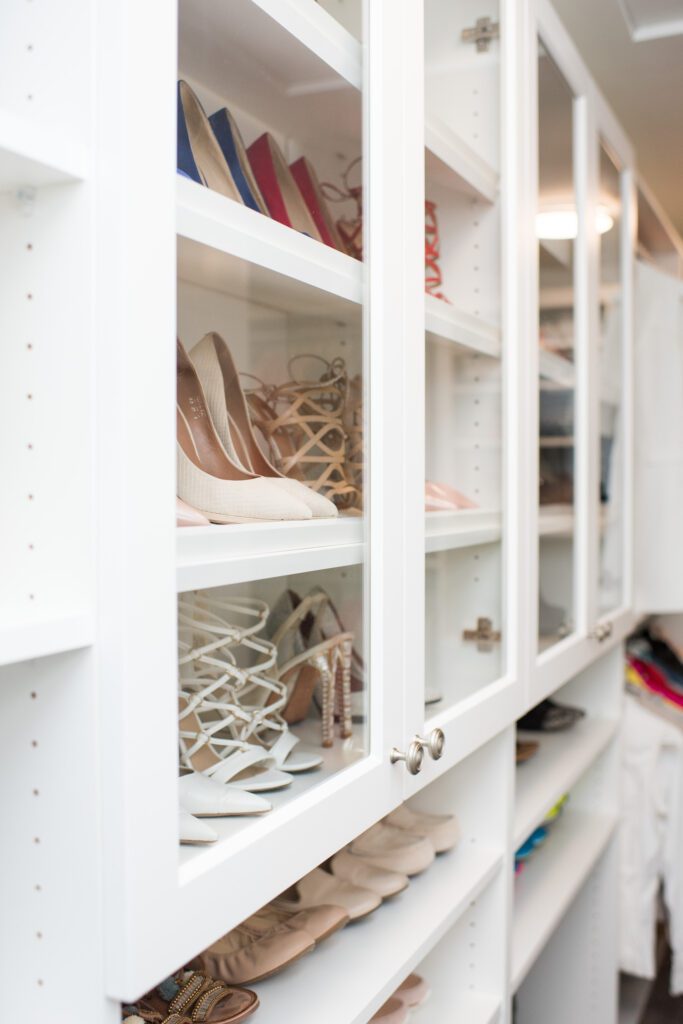 ---
Need some help to make this daydream a reality? Talk to a Stor-X consultant near you today. Your shoes will thank you for taking such good care of them.