If she worked an 8-5 job, she'd have to leave at 7am to wait for the school bus on a rural road. Her kids' activities and dentist appointments would be a constant struggle. What she needed most was flexibility.
She found it in an ad for a franchise trade show that was coming to town. The STOR-X logo caught her eye, and she made a call.
"It was just so easy to talk to them. They sounded like these amazing people, which they are. They and I decided pretty quickly that STOR-X was the way to go. I never did make it to that trade show."
Three years later, Diana is having a lot of fun. She now owns STOR-X franchises in Regina and Saskatoon, and she flexes her considerable creative muscles as part of the Design Hub of Regina—a collective of independent businesses that work together beautifully under one roof. Flooring, painting, bespoke interior design, wallpaper and upholstery, and Diana on cabinets.
Their recent collaboration for Alair Homes is a showcase for their talents. A spec home without an owner, each member of the Design Hub was tasked with contributing to a shared vision.
In the kitchen, Diana embraced a world of high contrast. Matte black bases create an earthy sense of weight, while bright white uppers float like clouds. Overhead lights bounce off warm wood floors. Matte gold hardware is on-trend, but not trendy. Classic quartz offers a gleaming worksurface. A huge white farmhouse sink invites messy meals made for families.
The space feels modern, but with the vibe of an old schoolhouse.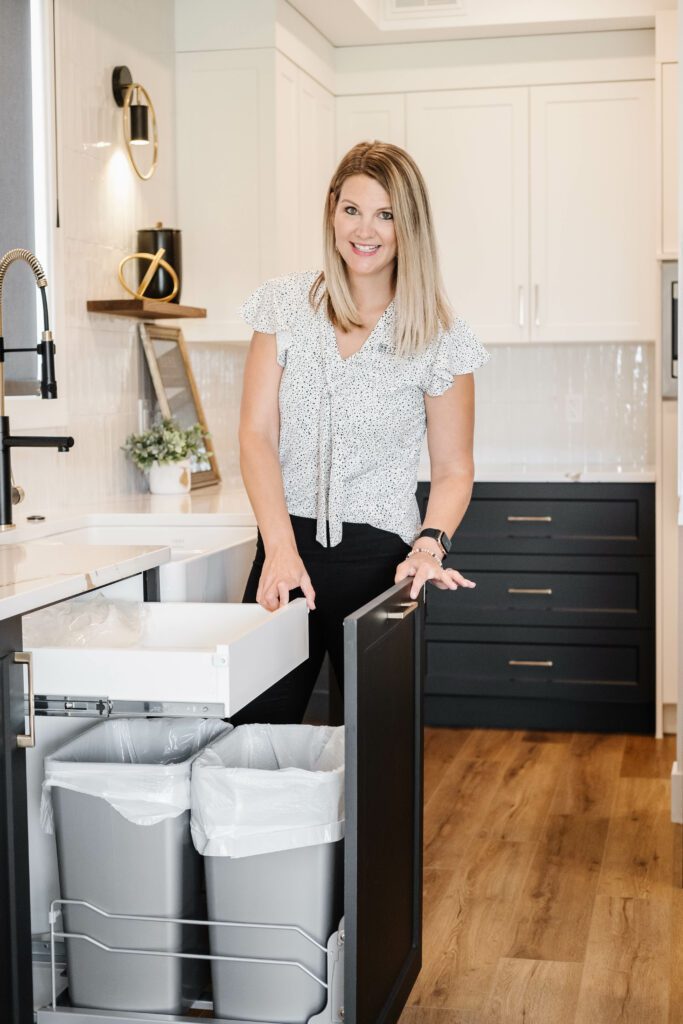 ---
Matte black is a favourite of Diana's, but a custom finish for STOR-X. It's a perk of working directly with a Canadian factory that builds absolutely everything to order.
At the end of the day, the house without an owner turned out to have an owner after all. The couple that had funded the spec home liked the results so much they moved in.
Working with builders is where Diana shines. Her deep experience with interior design in Saskatchewan helps her see the bigger picture and collaborate seamlessly to achieve it. She puts the interests of the builder ahead of her own, and she achieves results that feel customized and connected.
"Some of our builder partners send their clients directly to us for closet packages and home upgrades. If a customer wants to spend more in one area, to build in features that feel special and unique, we make it easy for them."
Up next: Two more black and white kitchens, a parade of tailored walk-in closets, a handful of epic garages, and lockers. Everyone wants lockers.
Locker systems are family cubbies with doors to hide the clutter. They're often in the entry to a home, so making them gorgeous is a top priority.
For Diana, that's no problem.
---