Top 5 STOR-X Designed Locker Rooms
Whether you call it a mudroom or a locker room, the entry area where household members unload their arms and take off dirty shoes can become an eye sore without some design intentionality and organization. Need some inspiration? Check out this countdown of the top five locker rooms by STOR-X.
---
5. Mudroom Cubbies with Bench
First on our list is this multi-use mudroom organization, ideal for families. Adjustable shelving allows you to store objects of different sizes without wasting space. Hooks make it easy to hang jackets, where they'll be ready for you to grab on your way out the door next time you leave.
The open shelving provides a number of benefits. It's easy to see everything at a glance, so it works well for families with young children. Easy accessibility also works well for individuals with certain disabilities.
A cushioned bench with drawers is an inviting place to put on and take off shoes while also providing neat storage for small items like keys or mail. Having a home for those items minimizes the temptation to just toss them onto the nearest flat surface. Tidy, inviting, and easy to use, this locker room is ready to take on the ins and outs of any family.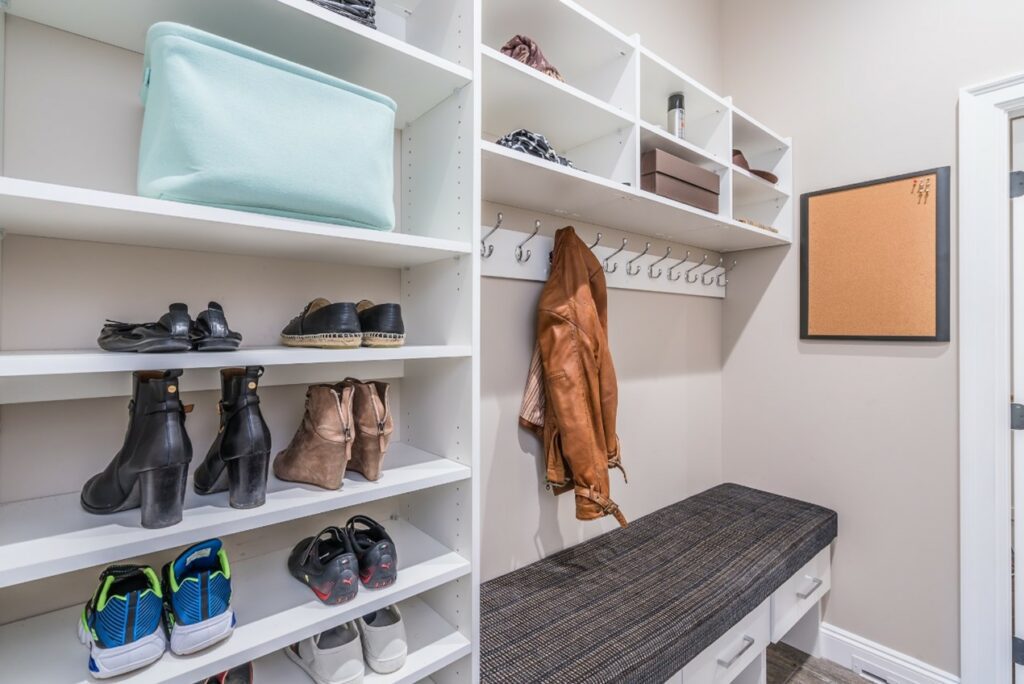 ---
4. Custom Mudroom Entryway
This custom-built locker room was designed by STOR-X for Jillian Harris and appeared on the hit show Love It or List It. Customization allowed designers to utilize some unused space at the entrance of the home and to build the mudroom around the stairs. It features hooks for tote bags, scarves, or hats as well as enclosed storage for bulkier items like coats and boots.
The shoe storage for this mudroom is ideal for elderly visitors or household members as it provides easy and convenient access directly beneath the bench. Take off dress shoes and slide into slippers without any hassle, keeping feet cozy and the floors of the home clean.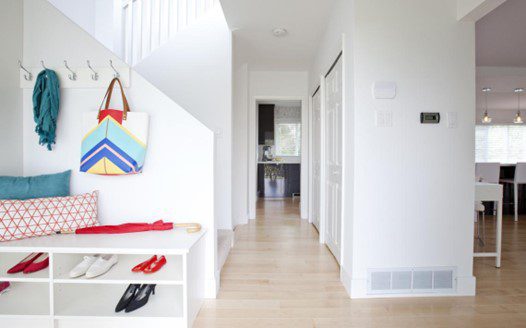 ---
3. Mysterious Home Locker Room
This locker room gives new meaning to the concept of a home team. It abides in someone's home in Kelowna, BC and there's a real story to explain its existence, but it's more fun to imagine the possibilities. Is it the entryway of a home at the base of a ski resort? Might it belong to a family of hockey players or figure skaters with a frozen pond in their yard? Is it backstage of a family theater and the cabinets house costumes?
For the purposes of this article, the "why" is secondary to the "what" of the design. Fortunately, the "what" is remarkable as well.
This multi-use locker room shows that mudrooms don't always have to be black and white. The warmer design of the STOR-X Nizza wood grain finish on the backer and bench creates a "welcome home" vibe. The mudroom lockers are in our White Shaker finish of the Trillium Profile design. Cabinets for the mudroom provide a uniform appearance, regardless of whether they contain costumes, ski gear, or hockey equipment.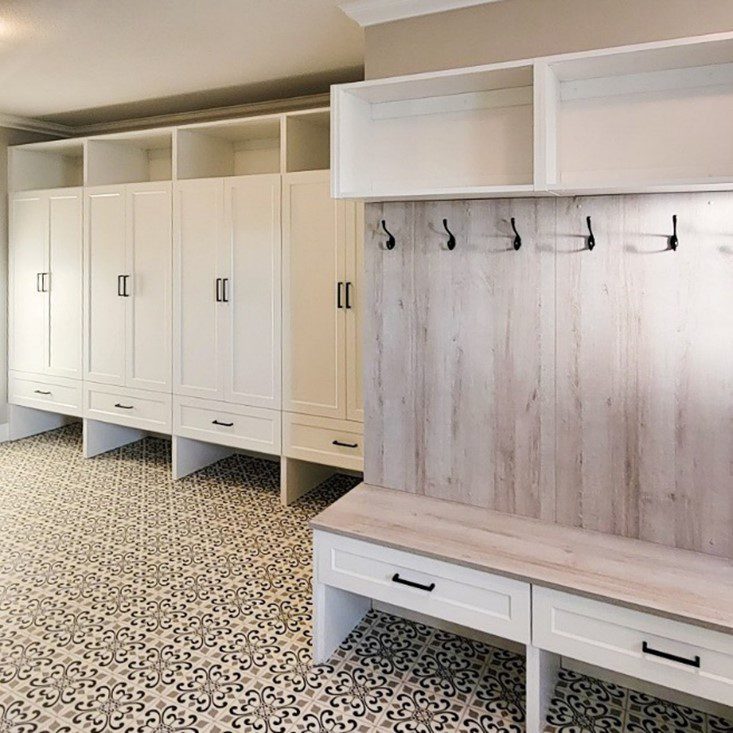 ---
2. Mudroom Storage in Edmonton
Designed by Jason Hryhorzcuk from STOR-X Edmonton, this locker room consists of fully enclosed cabinets from floor to ceiling. Cabinets provide a uniformity to the area, protect belongings from dirt, and ensure you're guest-ready at all times. There are hooks inside the cabinets above the bench so you can grab jackets, scarves, and hats on the go. Adjustable shelving in the other cabinets create ample storage space for a big family. The bench for the mudroom is flush with the cabinets and tops an open shelving design beneath where shoes or small items could be stored.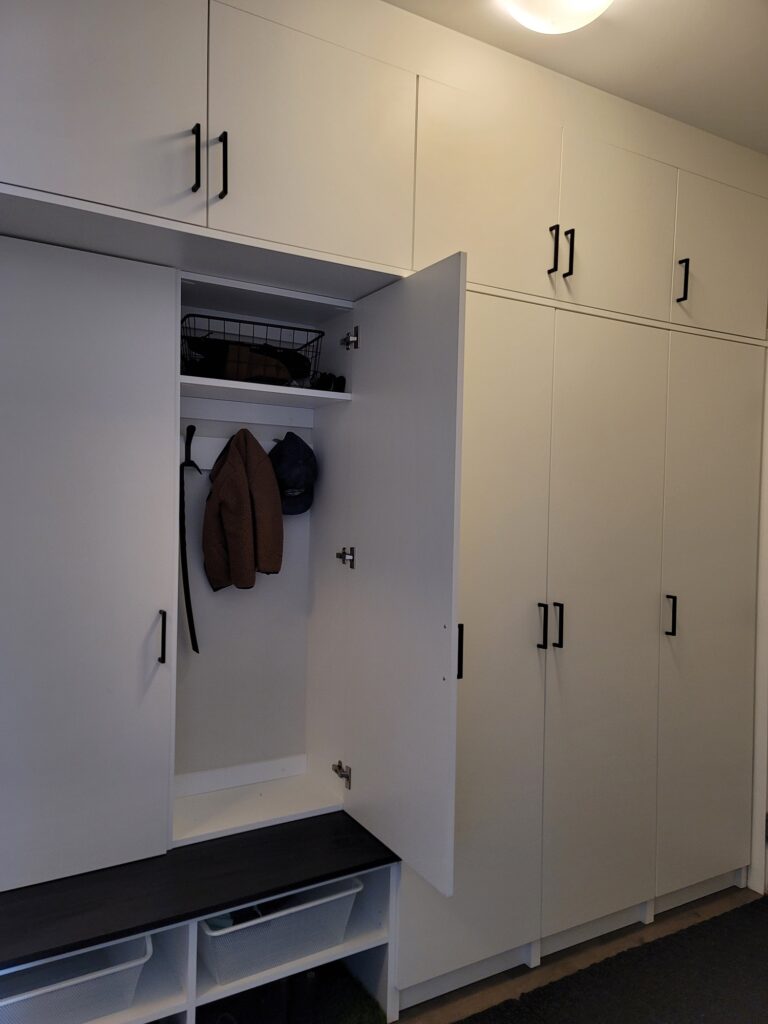 ---
1. Hockey/Lacrosse Locker Room
It hardly seems fair to have a real locker room for real lacrosse players in this list, but it's just so good. (It doesn't hurt that it shows off STOR-X capabilities beyond the home.) Our own James Abbott tackled this challenging design for the Maple Ridge Burrards senior men's lacrosse team.
Working around multiple corners, angled walls, and steel beams, James used our 3D software to show the client what it would look like ahead of time. With personal knowledge of what the athletes would need, he ensured the seating space for each player was at least 30 inches wide (40 inches for goalies) and had room to store the equipment bag under the seat. Each stall contained three double hooks and a top shelf, too, with the clean, timeless look of our Hardrock Maple finish.
In addition to the great design, James managed to complete the job in three weeks over the summer, between lacrosse season and hockey season.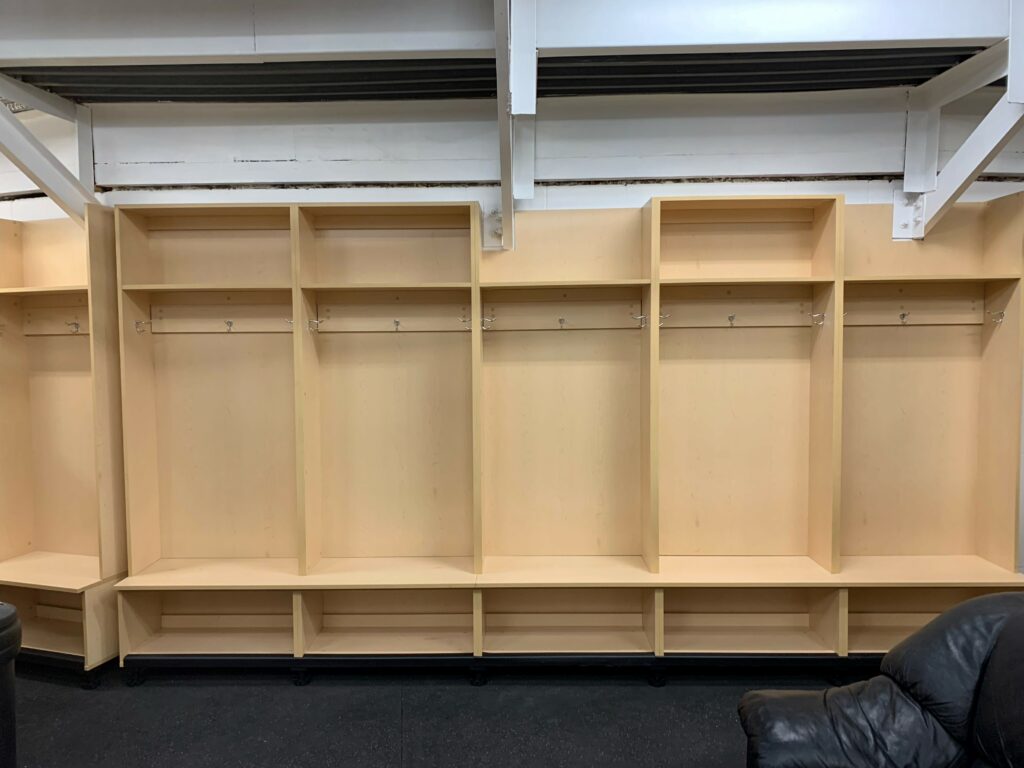 ---
Feeling inspired yet? Need some professional input? Find the STOR-X Location nearest you and talk to a consultant.