Garage Storage Ideas for Those Looking to Get Organized in the New Year
Now that the holidays are over, you need to store decorations and find space for new gifts. Maybe you've resolved to keep a tidier home in the new year. Storage spaces like the shed and the garage are parts of the home people often neglect to organize.
---
In part three of our Marie Kondo inspired tidying challenge, we tackle the garage and storage spaces. In parts one and two we looked at the kitchen and laundry room and common spaces like the living room and guest room. Now that the holidays are over, you need to store decorations and find space for new gifts. Maybe you've resolved to keep a tidier home in the new year. Storage spaces like the shed and the garage are parts of the home people often neglect to organize.
It's easy to toss outdoor items into the garage or shed so that they remain out of sight. Doing so makes it more likely these items will become damaged or get lost. Tools, exercise equipment, athletic gear, recreational items (camping, biking, yard games, etc.), seasonal decorations, seasonal wardrobe, yard maintenance items, car maintenance, old files, nostalgia, collectibles, and home maintenance items need homes, too.
---
When You Organize the Garage, Remember These 4 Tips
Before we get specific, there are some basic garage organization ideas you need to tackle first.
Don't store things you don't plan to use again. The holiday decorations still in the box because you didn't use them this year could be thrown out or donated. It doesn't make sense to keep storing them if you don't use them. As we've discussed in the previous articles, donate, recycle, or throw away unwanted things to make room for what means the most to you.
Are there items in your garage that need to be repaired before they can be used? How long have they been waiting to be repaired? If it's been more than a month, chances are that you'll continue to navigate life without it. Let it go. Don't continue to store broken things.
Consider the climate of your storage space when storing certain items. Extreme temperatures can damage electronics and photographs. Moisture threatens to invade possessions with mold and mildew. Extreme dryness makes plastic brittle over time. If some of your belongings need more climate control than the garage can provide, move them inside and find a home for them there.
Choose a categorization system. Will you store items by material or by purpose? Regardless of the categorization system you choose, you need to remember to store the things you use most often in spaces that are most accessible.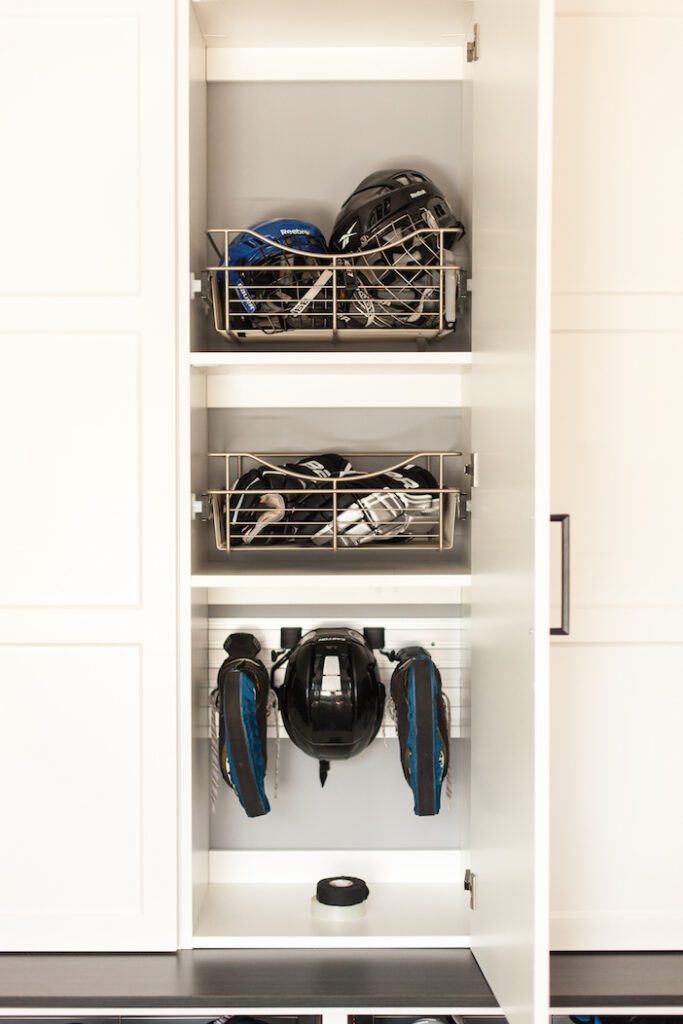 ---
Garage Shelving and Garage Cabinets
Stacking and piling bins or boxes may look neat enough, but it means the only truly accessible things are those stored on top. If that box is out of reach, then none of the stack is truly accessible. Garage organization requires you to prioritize what you use most often.
A more accessible alternative is to use garage storage cabinets or a shelf organizer along the walls of your garage. This allows you to organize items in bins that will be accessible without having to move anything else. Label the bins so you know what each contains without having to open it. Cabinets are a great option for storing oddly shaped things like power tools or sporting equipment without making the shelf appear cluttered.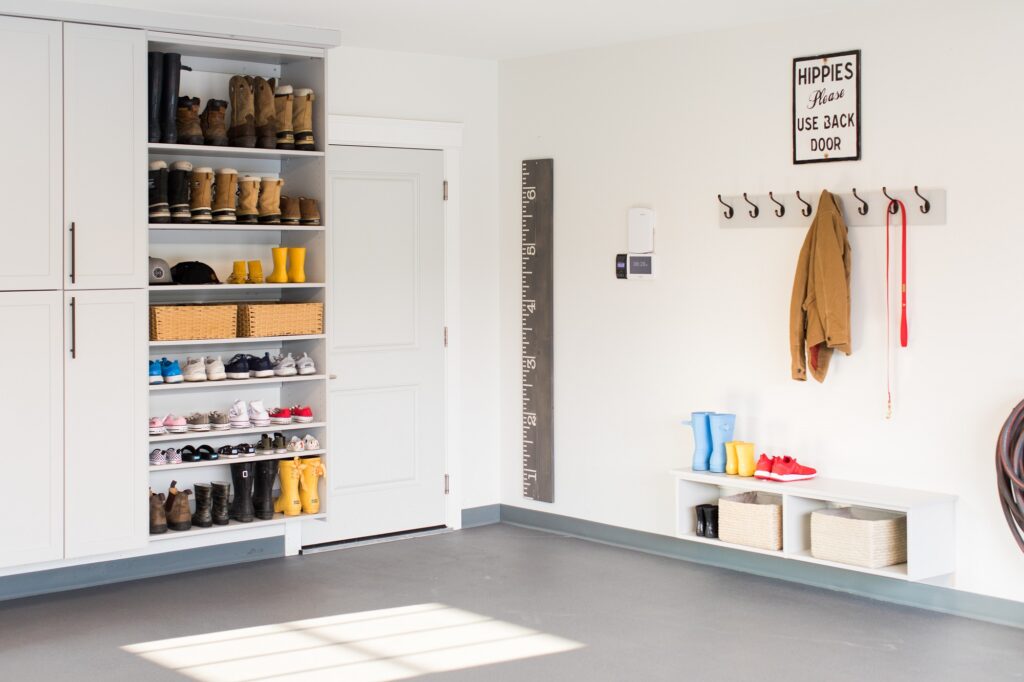 ---
Overhead Garage Storage
Many homeowners forget to go vertical with storage. Use bicycle hooks to hang bikes from the ceiling, up off the floor and out of the way. You could also get creative and make the most of garage ceiling storage. If there are beams in the top of your garage, they can quickly become shelves you use to store items you don't use very often, like a kayak or the Christmas tree. Just be sure to leave clearance for the garage door to open and close without damaging anything.
Organize Storage Spaces, Shed Storage
If you're fortunate enough to have a shed on your property, it's a great place to store oddly shaped things like the lawnmower, snow blower, or sleds. Climate concerns rarely apply to outdoor maintenance tools.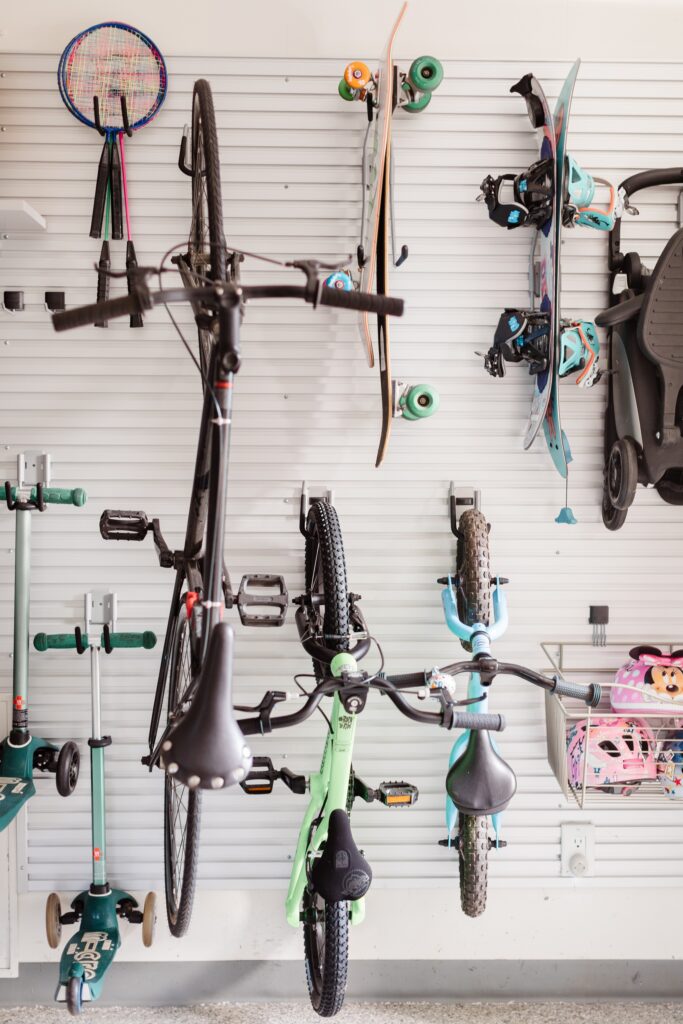 To create just a bit more storage space in the yard, you could use a portable closet. Such items are small, relatively portable, and will often fit on the side of the house or on the patio. Use a portable closet to store gardening tools like rakes, shovels, and the garden hose. These items don't fit easily into a bin, but quickly make an area look cluttered when they're just thrown into a pile.
An absolute last resort for storage is to rent storage space at a storage facility. The goal is to minimize possessions so renting space is no longer necessary. However, if it needs to happen for a time, keep the idea of accessibility in mind and create walking paths between the items so you can get to the things in the back.
---
Tool Storage
Tool storage can be tricky because of the shapes of tools and the need to keep them accessible. Garage tool organization should consist of more than an overstuffed toolbox. Consider a garage racking system that enables you to hang your tools neatly on the wall using pegboard.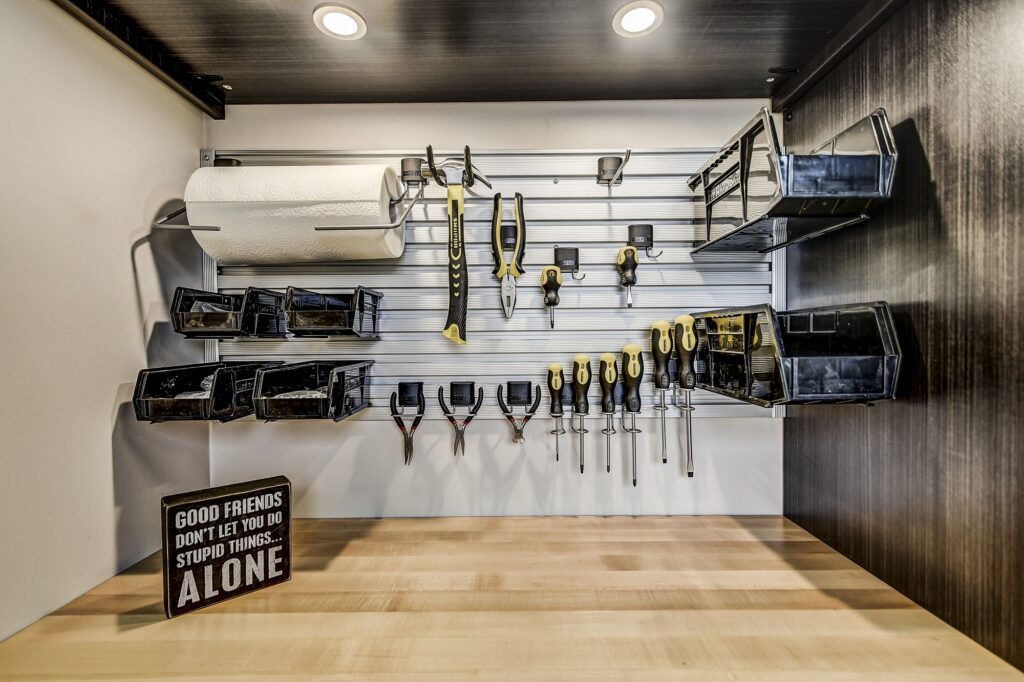 ---
If it all seems overwhelming, start with one area and go from there. Or call a consultant to offer advice. The experts at Stor-X love to help people get organized.