Others have realized that they don't need a physical location to get work done and have chosen to close their doors completely. If you're one of the thousands of professionals who will now be primarily working from home, now is a good time to take stock of your current workspace to make sure that you're set up for long-term success.
Define the Purpose
These are perhaps some of the more important questions you should ask and answer first as this sets the stage for much of what follows.
How Much Time Will You Spend in the Office?
A full day, partial days or maybe one or two days a week? This can also help determine how much space you might need. If you'll be working full time from home, it's a good idea to give yourself enough room so you won't feel crowded.
What Will You Use It For?
This is where you should have a good understanding of what kind of work you'll be doing in addition to how you'll be doing it. Researching, creative ideation and preparing presentations could each require different setups.
Who Will Be the Primary User?
And will there ever be a need to include additional space for clients or co-workers at all?
Choose a Location 
Assuming that your home office's purpose is for you to be able to mimic your office environment as closely as possible, then your location should be chosen accordingly. You might think that an office situated close to the kids' play area or the family room could be convenient but it would most likely end up being a major distraction throughout your workday. Aim for a "kid-free" work zone if you can.
Choose a quiet area where you can focus and work undisturbed for longer stretches of time.
Include a window so you can to take advantage of natural light and calming views of the outdoors.
Having access to a strong and reliable internet connection is a must so when choosing a location, keep in mind some rooms in your home may be prone to drop-out or be weak signal areas.
If you don't yet have a dedicated space, consider converting an unused room into a workspace or look at the basement as a possible option. A workspace that has a "temporary" feel to it won't support long-term productivity goals.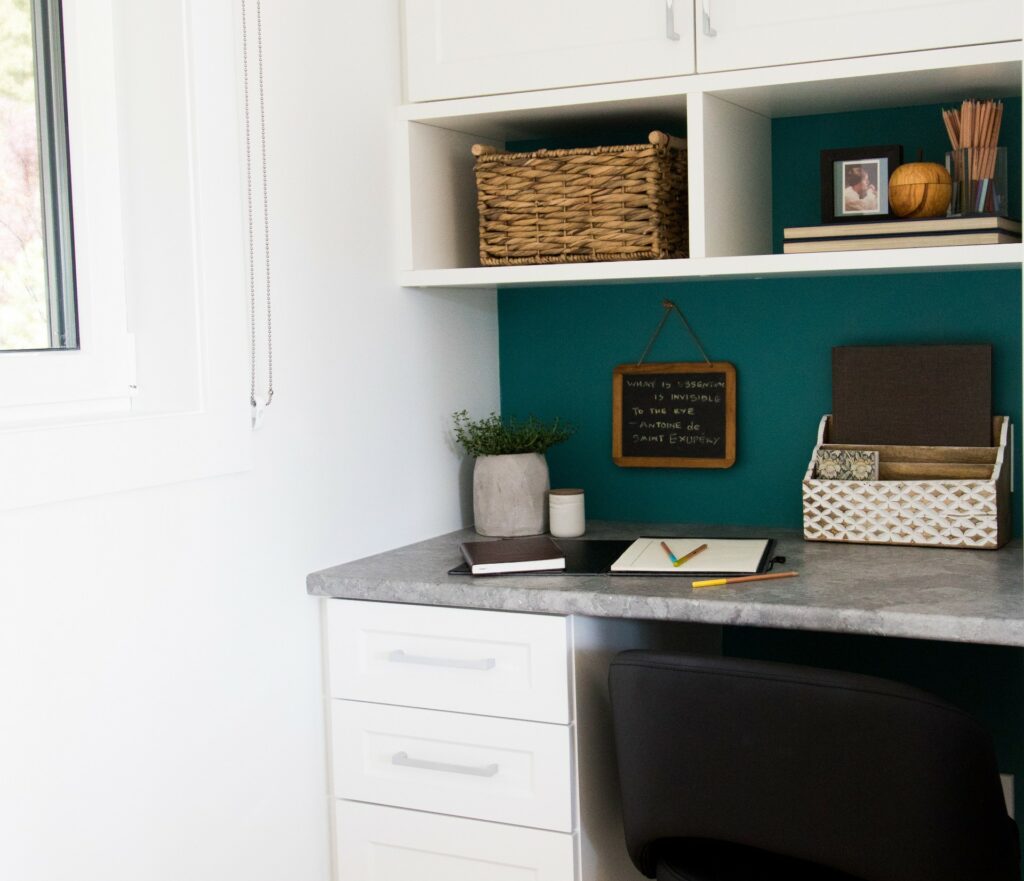 The Ideal Setup 
Take a look at your current set up with the critical eye of someone who needs to accomplish what was previously being done in an office.
Office Work Triangle
Much in the same way that a kitchen can be set up to achieve efficiency based on the work triangle (sink, stove, fridge), you can apply that same thinking to an office work triangle with a few variations. The idea is to get a sense of where your desk or workspace will be, which is also where your computer will typically be sitting. You'll want to keep storage files and other organizing items handy as well as have close proximity to a printer or other required equipment.  
Ergonomics
This plays an important role in your productivity. If you're sitting, make sure you choose a well-designed chair, one that supports your lumbar area, has rolling casters and can be height adjusted. Standing desks are becoming increasingly popular as sitting for long periods of time can cause tension and strain, particularly in the back, neck and shoulder areas.
Professional Background
If you will be conducting or participating in virtual/Zoom meetings, give some thought to your background as well. You want it to appear professional and fairly neutral so consider placement of personal items like photos while avoiding a messy bookcase or overflowing storage or shelving unit.
Expand Storage
If the room you're in has a spare wall, make the most of it. You can get a desk built-in with filing and storage units while also allowing for some floating shelves or other wall accessories to keep important documents or other items close by.
Stay Clutter Free
Keeping your workspace free of clutter, papers, files and other items means having the right accessories to help you accomplish this. Avoid stacking books or papers. Set a time at the end of the day to sort through/store files and recycle what is not needed so that your desk is clear for when you start the next morning.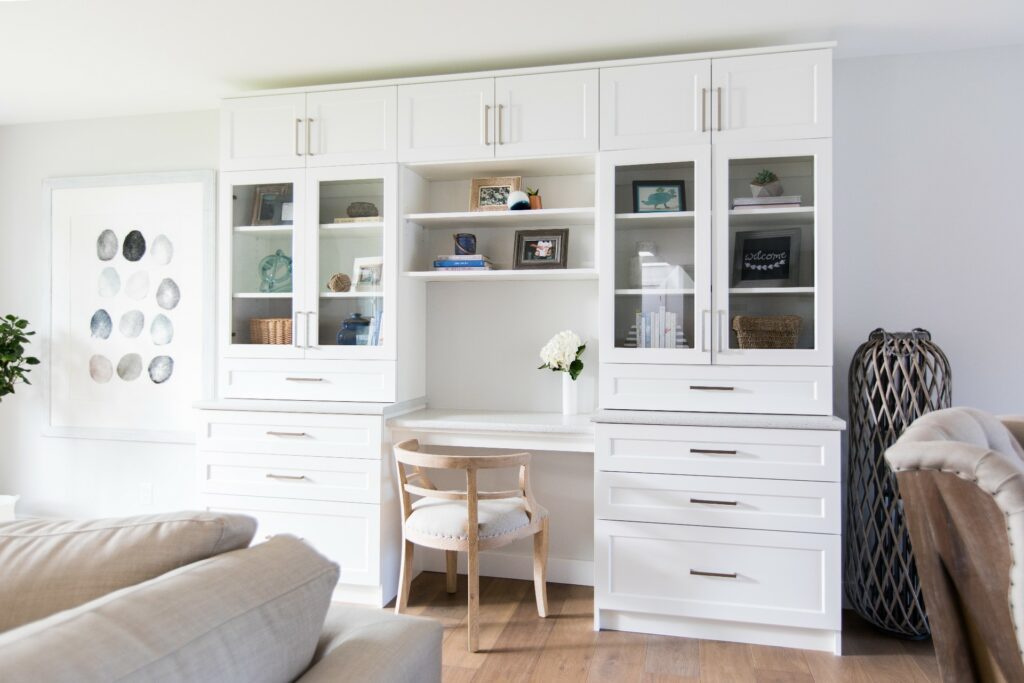 Environment, Ambience & Décor
This is where you truly get to make the space your own with the addition of some personal touches. Think about the kind of environment that you work best in and then do what you can to cultivate that.
Lighting and Colours
Do you prefer natural light or a brightly lit workspace? Strategically situated lighting can do wonders for helping you get your work done. What about the colour palette? Neutral tones are often best as a foundation as pops of colour can be added with pictures, storage files and office accessories.
Set a Calm Environment
Unless you're in a basement where lighting is limited, consider adding plants to the room. A touch of greenery doesn't just brighten up the room but plants also help clear the air.
Some people prefer adding essential oil diffusers or other sources (candles, air fresheners) to help set a calm, restive environment that also encourages creativity and productivity. Some oils that have been identified as helping aid in focus and productivity include lemon, eucalyptus and peppermint. Juniper, ginger and lemongrass enhance mental alertness. Lavender, rose and bergamot have a calming, restorative effect on the mind and body.
Adjusting to Your New Workspace
With the new normal defining not only where we work but also how we work, it's important that we recognize the need to have warm, inviting workspaces set up so that we can continue to be as efficient and productive at home as we were in the office.
Could your home office space use some help? Looking for organizing and storage solutions? Book a virtual or in-home consultation today. We've been Canada's organizing and storage experts since 1989. European inspired, custom-designed, Canadian made, owned and operated.