Stor-X Standout Spaces: Our Top 5 Favourite Closet Transformations
We're excited to introduce our brand new "Top 5" series with a special focus on our first love: closets. Next time, it could be a "Homage to the Garage" or an "Ode to the Home Office". Either way, the goal is to celebrate beautiful spaces one room at a time. So, without further ado, here is your debut dose of design inspiration.
Welcome to our happy place – where the most inspired storage solutions take centre stage.
Whether you're getting all gussied up for a night out or throwing on some yoga pants for a Netflix marathon, having all your clothing in a well-organized space gets you in the right frame of mind. That's why we love the following closets so much. Regardless of the configuration challenges, these walk-ins don't just coordinate and display wardrobes in style; they promote well-being and a sense of calm.

#1: The Triangle Walk-In

This dramatic closet makeover was featured on hit HGTV series, "Love It or List It Vancouver". Originally, the homeowners had no idea how to optimize their uniquely shaped space. And without a designated purpose, the room started turning into a walk-in junk drawer, with miscellaneous garments piling on the floor.
Co-host Jillian Harris couldn't have that. So, she teamed up with a STOR-X designer to transform this quirky attic into this airy, inspired dream closet. They created tons of storage with beautiful lower cabinets, plenty of drawers for socks and intimates, shelving for shoes and knits and lots of hanging space. They topped it all off with a flat countertop to display all their favourite items. File this one under the "peak of perfection."

#2: Holly Horvath's Spare Bedroom Transformation

Style influencer, Holly Horvath, wanted to turn her spare bedroom into a beautiful walk-in closet. The existing reach-in closet was overcrowded with wire shelving and therefore not very accommodating for maxi dresses, jumpsuits and other full-length style staples. So, she resorted to clothing racks that took up most of the floorspace, which might be okay for a pop-up, sample sale…. but not ideal for a home closet.
Closet guru, Diana Greyling to the rescue! She knows how to customize a storage solution to meet the needs of her individual clients. For example, she knew only a built-in, floor-to-ceiling shoe rack would do for Horvath. We also love how Greyling opened up the reach-in closet for easy access to all those beautiful sweaters and tops. And now that once cluttered space is a stylish and well-organized dressing room…and check out all that floorspace!

#3: The 2017 Jillian Closet Line Collaboration
For this project, Jillian Harris joined forces with STOR-X to create a beautifully streamlined closet system in classic white with brass hardware. The glass cabinets are perfect for showcasing the owner's most coveted pieces. They also add a touch of sophistication and reflect light nicely, making the space feel even larger.
True to form, Harris expertly makes good use of every square inch with shelving and drawers, leaving lots of room for hanging and storage. We also love how the smaller side unit is set back from of the main wardrobe – the contrasting depth adds visual interest. Imagine starting each day, selecting an outfit in such an elegant and spacious room.

#4: The Luxury Style Salon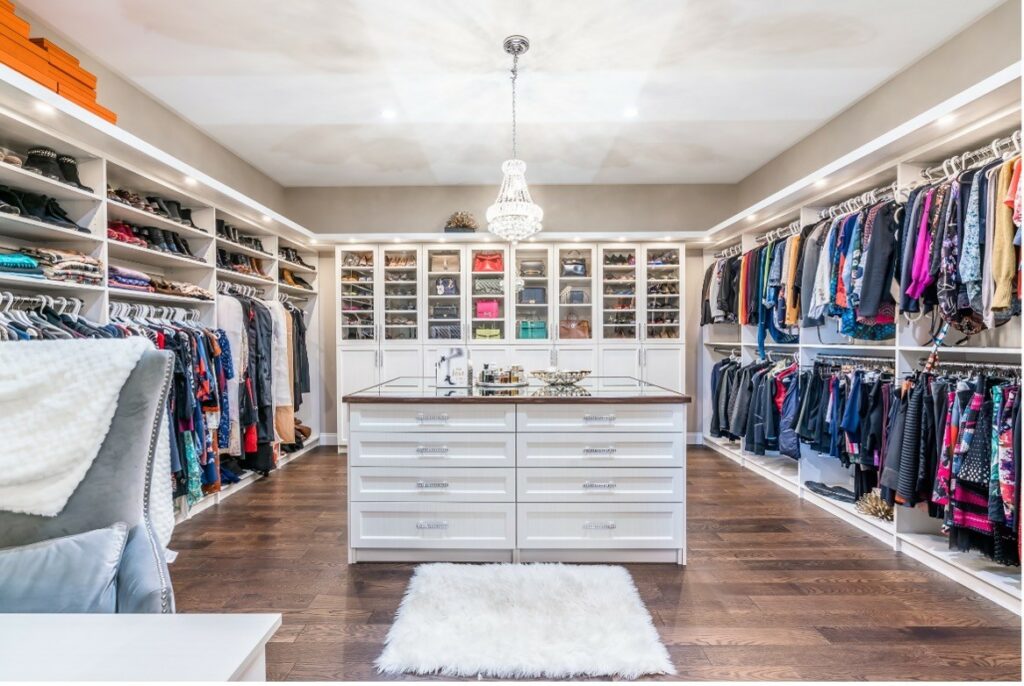 When the owner of this stunning space reached out to STOR-X to help her realize her vision for the ultimate walk-in closet, she already had a very clear idea of what she wanted. In fact, she basically designed her new home around this space. She thought of everything, from the glass-top jewelry and accessory island to the display case for her designer purse collection.
The sleek recessed lighting fixtures are perfectly spaced to ensure a warm, evenly lit room, while the opulent chandelier adds a hit of old-school Hollywood glam. Which is important because let's face it, when you're trying on new looks in front of the mirror, lighting is everything.

#5: Natalie Langston's Walk-In Closet
Vancouver fashionista Natalie Langston is known for her red-carpet style. So, it's only fitting that she has a closet worthy of such glamourous garb. But this home improvement project wasn't just for her coveted wardrobe; it needed to accommodate her husband's threads as well.
The real challenge, though, was optimizing the L-shape space, which they did by installing customized floor-to ceiling cabinetry. Every article of his and her clothing and accessory has its place now – thanks to the multiple pull out drawers and glass display cases. And we're not the only ones wowed by this makeover. The result was so stunning, it was featured on Global TV.
Looking to reorganize a particular area in your home? No matter what size you're working with, there's always room to organize and maximize function. Check out some of our favourite space-saving pro tips for small homes.