Our TOP 5 LAUNDRY ROOMS 
A typical family of four spends several hours each week sorting, washing, drying, folding, and ironing between 7-10 loads of laundry. And just when you get that last sock matched and folded, you get to start again, because everyone just keeps wearing clothes.
We dream of life on a tropical island with three swimsuits and nothing else. But here in Canada, it's an empty threat.
So we're making the best of it… with laundry rooms worth spending time in. Emerge from your laundry dungeon lit by a single bare lightbulb, and find a fresh perspective with these gorgeous modern laundry rooms.
The Airy Zen Laundry Room
Maybe you're doing laundry, or maybe you're meditating in a serene and beautiful space. Who's to say? Here everything utilitarian hides behind sparkling white profile doors. Counterspace makes folding (nearly) a pleasure, while baskets for dryer balls and soap keep things soft and warm. The lines are as clean as the clothes. Throw a plant in a sunbeam and you'll nail the look.
As seen on Love It or List It: Vancouver.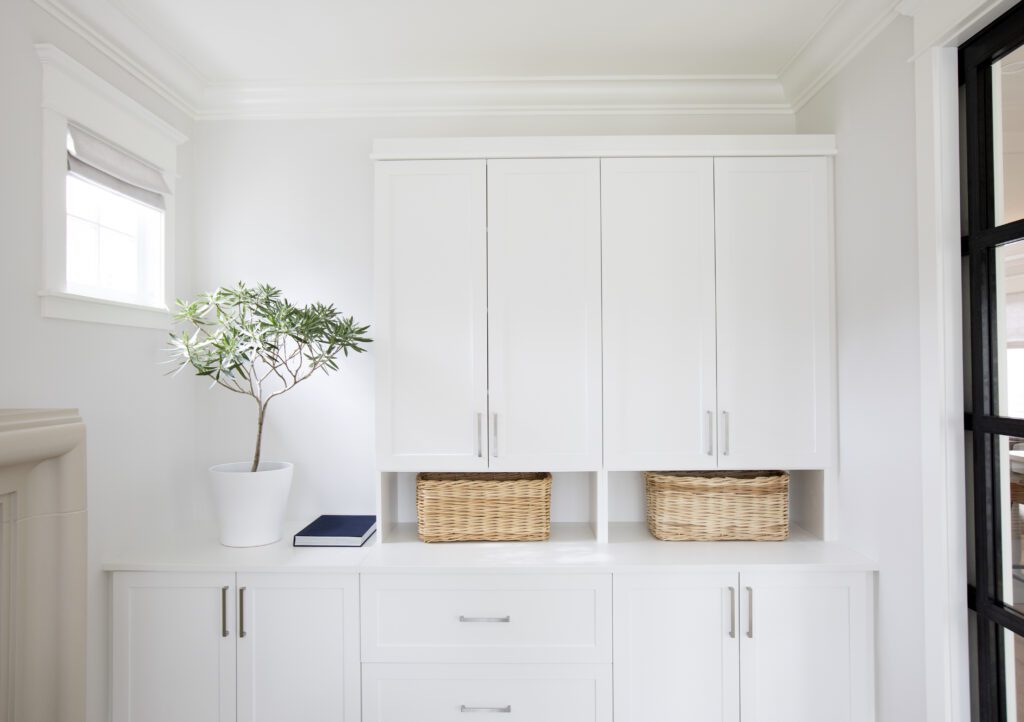 ---
The Laundry Station Closet
If you've got a closet to work with, we've got your very small laundry room ideas. Ditch the corner pile-ups, and get yourself organized. Start with a laundry bag for every member of the family. Hang them on tracks that feel super satisfying every time you slide them open. Utilize every millimeter of your closet with angled gable tops. Add simple gravity clamps to hold your broom or Swiffer.
As seen on Love It or List It: Vancouver.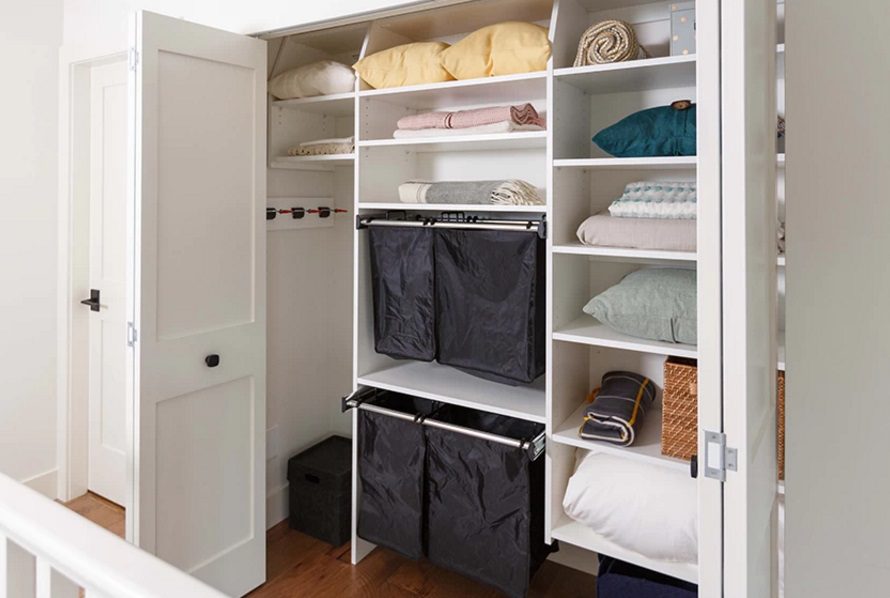 ---
The Big Family Manager
When the people in your home multiply, so does the laundry. School, soccer, hockey, dance, skiing… every activity comes with its own uniform. For a large family, the laundry room is a workhorse, and this one by STOR-X Vancouver is up to the task. A generous counter surface makes sorting and folding a breeze. There's a hanging rod for air drying and hamper bags for each family member. Floor-to-wall tile keeps everything feeling clean and cool.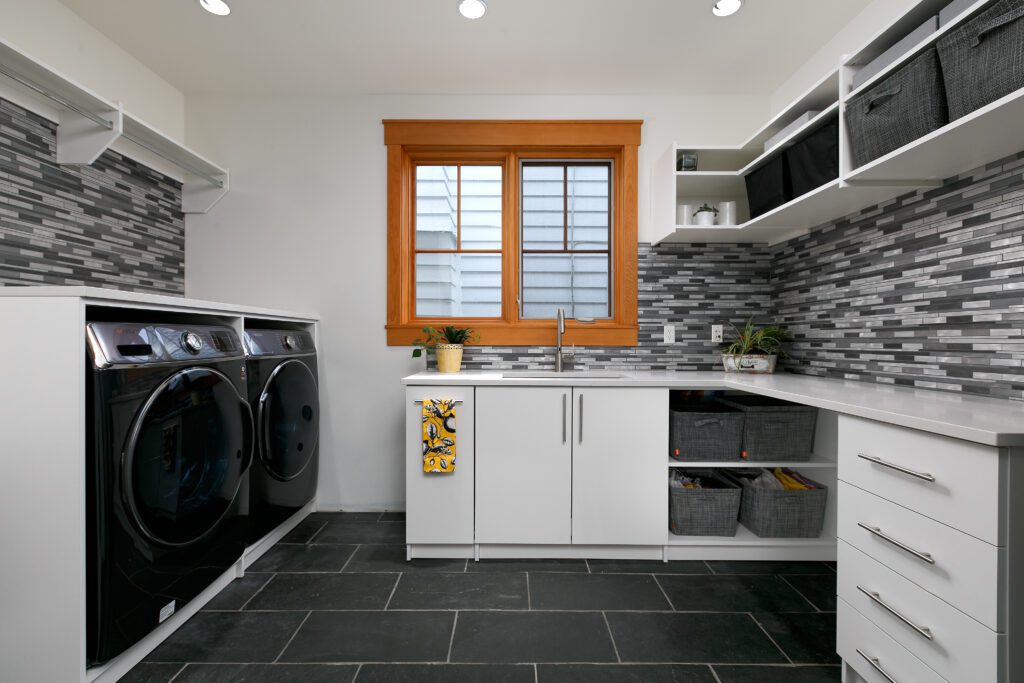 ---
The Mountain Chalet Laundry Room
Few of us would consider the laundry room the dreamiest part of a mountain retreat, but this one is a contender. Natural wood paneling and black hardware pair perfectly with our neutral Folkstone Grey cabinet finish. Storage hides behind closed doors to keep the space feeling clean and open. Add a hanging bar for air drying, counterspace for folding, a bold statement light fixture, a bohemian rug, and some freesia in a gleaming glass jug. We'll never leave.
As seen on Love It or List It: Vancouver.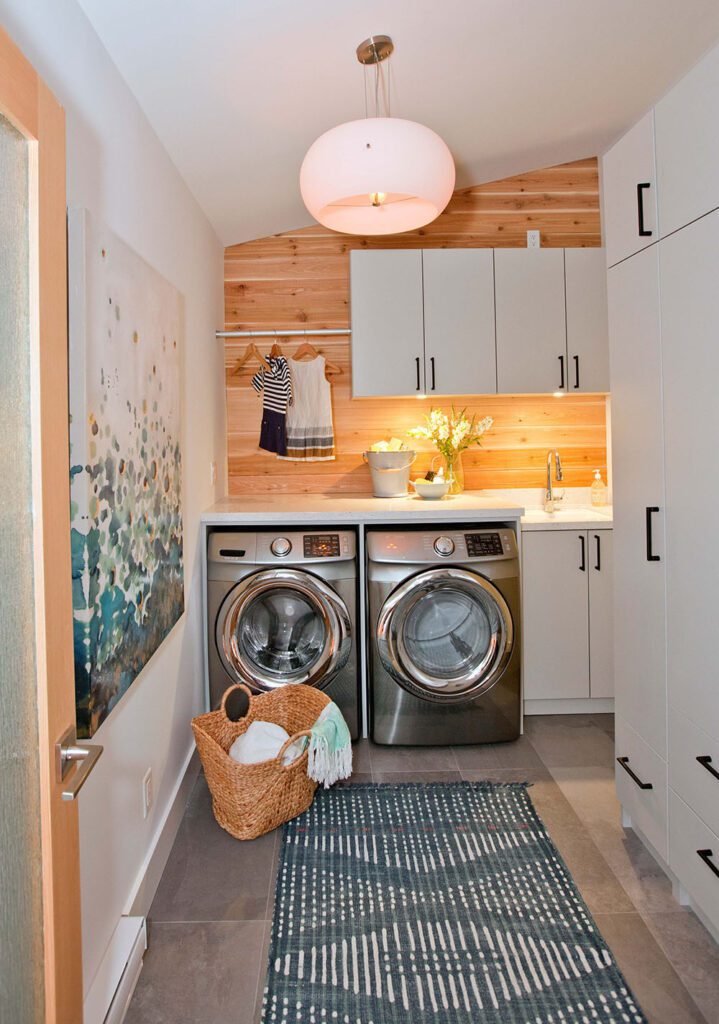 The Laundry Room Gallery
Show off your personal style with a laundry room that's both functional and beautiful. In this one, a bold art wall anchors the space, diagonal checkerboard flooring opens things up, and simple white cabinetry allows colour to shine. The effect is bright, exciting, and fresh.
As seen on Love It or List It: Vancouver.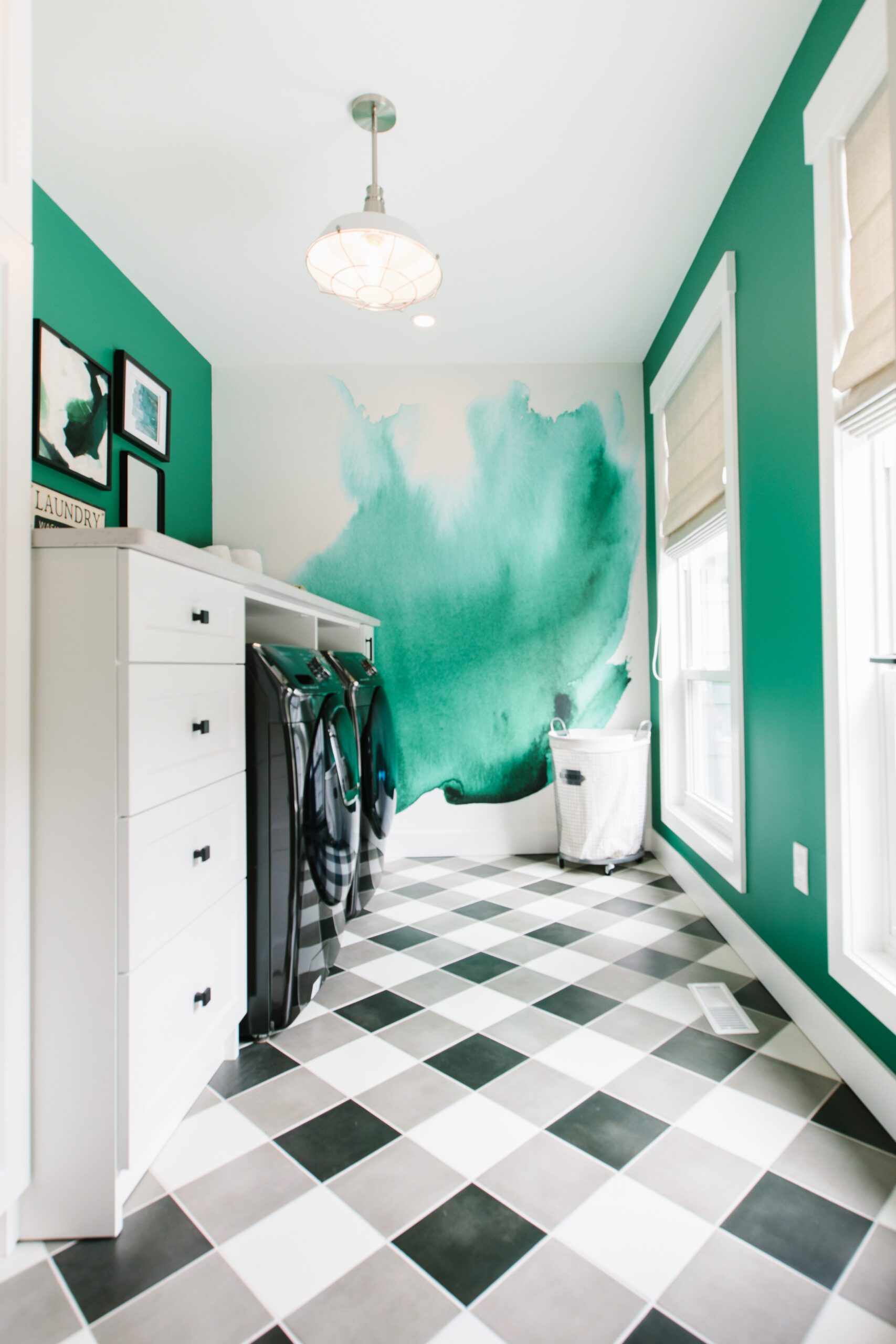 Make it your own
Whether basement, foyer or closet, your laundry room design should reflect your personality and style. Think of it as an opportunity to take a few risks. Bold tile, feature walls, artwork, and custom laundry room cabinets will make your space feel more blissful and less stressful. We'd love to help. Book your complimentary consultation today, and let's see what's possible.
---
Is it right for your space?
Find out with a complimentary consultation