---
Last month we talked about organizing the kitchen, pantry, laundry room, and linen closet. This month we're discussing the shared spaces used to entertain guests during the holidays: the living room, dining room, and guest bedrooms.
First Things First
Some basic organization tips apply to any room in the home. These are the first steps to preparing rooms for the holidays.
Cleaning is not organizing. The former focuses on dirt; the latter focuses on things.
Make space to receive gifts, to welcome guests, and to decorate.
Every item in a room should have a specific purpose and a place where it belongs.
Staying tidy is a family affair. It's important to get everyone on board with the value of returning items to their designated places in order to maintain neatness.
Items that elicit a sense of joy and comfort keep organized spaces from feeling sterile and unwelcoming.
---
Consider Floating Shelves for the Dining Room
A formal dining room may be one of the easiest rooms in your home to organize. Few families use it often enough to mess it up. Clear the table of anything not related to dining. If you have a hutch or similar furniture piece in which to store items, make the most of it. Remember to store the most frequently used items, like napkins, tablecloths, and silverware, where they are easily accessible.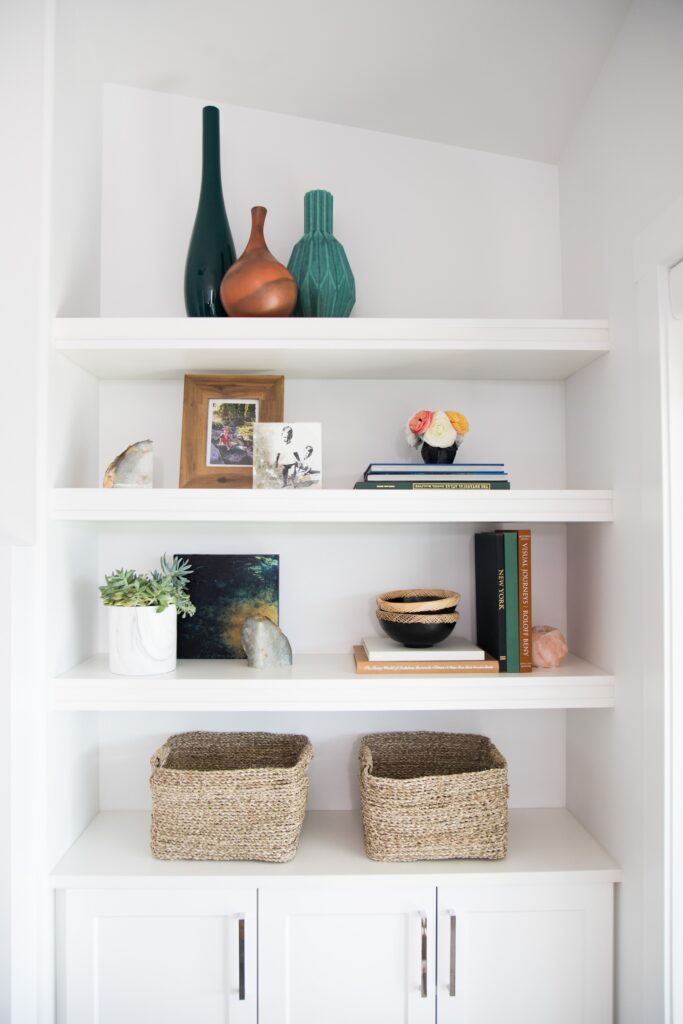 If you don't have dining furniture with storage space, wall shelves for the dining room could be the answer. Specifically, they can be a nice way to store and display serving utensils or cups and saucers.
A holiday centerpiece on the table adds a festive nature to the space.
---
Guest Room Intentionality
As with the other rooms in your home, everything in your guest bedroom should have a purpose and a place. Make room for your guest to exist in the space.
Leave a couple of drawers empty and matching hangers in the closet for guests to use for their clothes.
Create an area other than the floor where a suitcase can lay open.
Preemptively provide items guests may have forgotten: toothpaste, razor, mouthwash, shower cap, etc.
Add touches of "home" to the room so they feel more comfortable. Provide a pitcher of water in the room, along with a cup, so they can get a drink without wandering the dark halls.
Keep them warm by providing slippers and/or placing extra blankets in sight and within reach.
---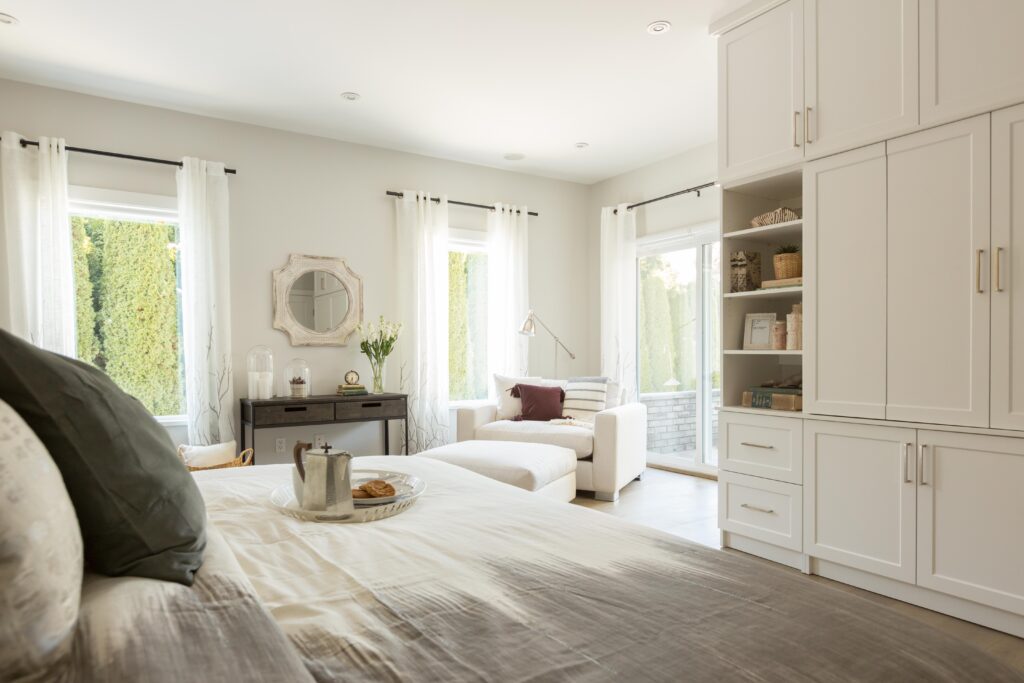 ---
Storage for the Living Room
The living room may be the trickiest of these rooms to organize and keep tidy around the holidays, because it is one of the most frequently used common spaces. The key is for every item to have a home and for every family member to know where that home is. Organizing in this way means having toy storage for the living room as well as blanket storage for the living room.
Toy storage ideas for the living room require simplicity and subtlety. If the storage system is too difficult to understand or out of reach for tiny hands, small children will not be able to pick up after themselves without adult supervision. That's where the subtlety comes in. You want the storage system to be easy enough for a child to use without compromising a tidy appearance. Consider cube storage with bins that easily slide in and out of the cubes. Kids can toss toys in the bins haphazardly (simple) and then slide the bin into the cube where the chaos is out of sight (subtle). No room for a wall of cube storage? Not a problem, try custom corner shelves for the living room instead. Stor-X can make that happen. Just ask.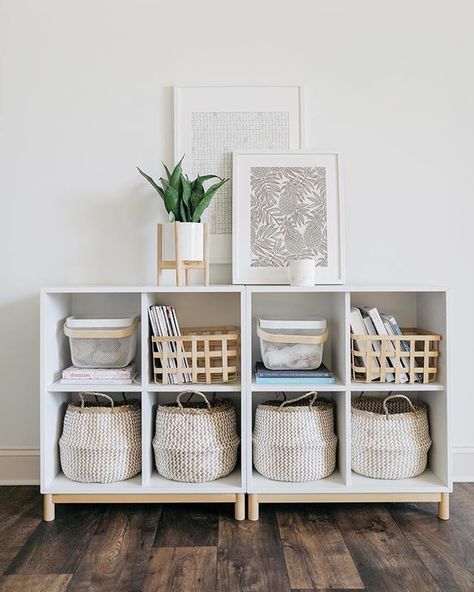 ---
Blankets are an essential holiday accessory. That keep people warm and provide a sense of coziness around the fireplace. However, they can quickly make your living room look cluttered and uninviting. Store blankets in a bench seat or a trunk that doubles as a coffee table to keep them handy but out of sight.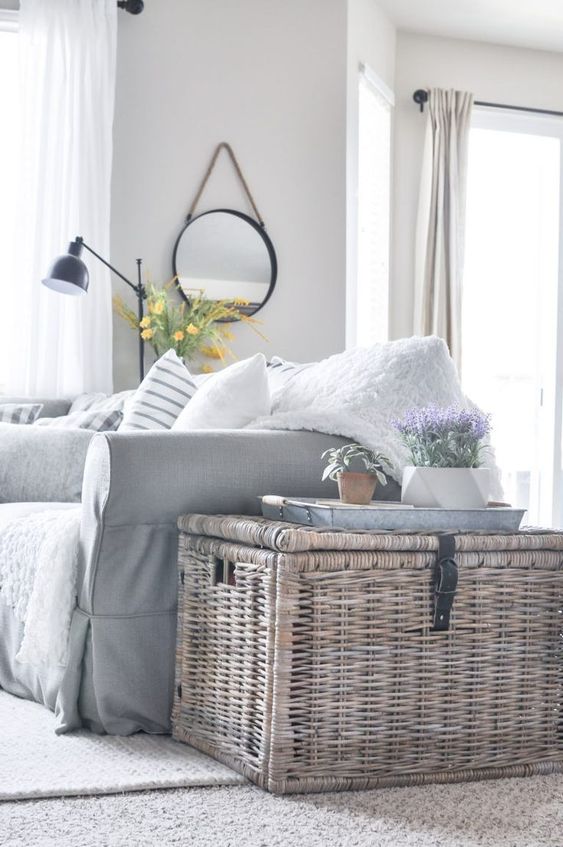 ---
One last comment on organizing the living room: give the remote control a space of its own. This promotes neatness and reduces the number of times you have to search for it during the holiday season, keeping you and your family both holly and jolly.

Need more custom storage solutions? Reach out to the team at Stor-X.
---