Case Study: Malaspina Printers on Howe Street
Malaspina Printers is a registered Canadian charity founded nearly half a century ago by a group of printmaking students, fellows and instructors from the Vancouver School of Art (now the Emily Carr University of Art + Design). Their studio facilities enable artists to practice and produce their printed work. They offer printmaking supplies and host printmaking classes and screen printing workshops in Vancouver.
As you can imagine, there's a lot of art and paper that needs to be stored at Malaspina—ideally in durable, high-quality cabinets with generous, customized dimensions.
Which is where we came in.
"They needed a company that could customize everything. They liked our reviews and our previous work. They trusted us, so they reached out." – Alex Voogd, STOR-X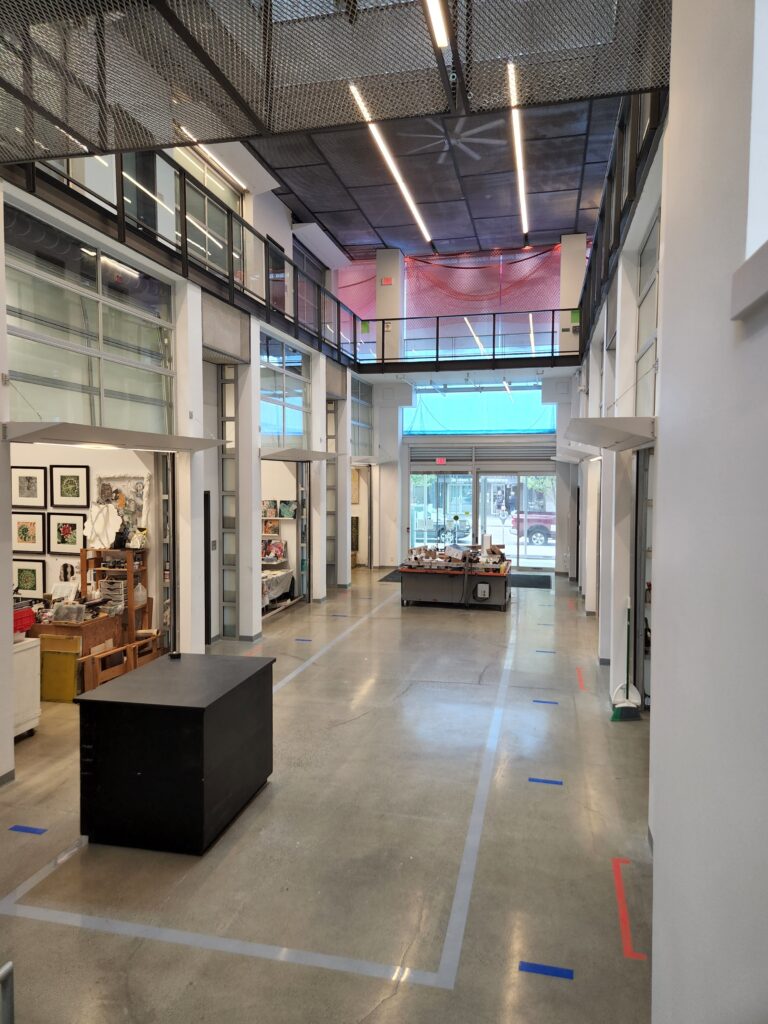 ---
The Team
Franchise Owner and Senior Designer Alex Voogd at Stor-X Vancouver formed a dream team capable of outfitting Malaspina's printmaker studios. Design Consultant Frosina Danova led the way, working closely with Justin Muir, Malaspina's Executive Director.
At every juncture, our team communicated beautifully. Effective collaboration helped us find creative solutions and quickly solve any minor issues that came up.
---
The Plan
Through a series of design review meetings, various layouts were considered to meet the functional needs of the Howe Street space in a way that felt inspiring to its artists. Oversized custom drawers defined the project, measuring 5 feet long x 4 feet deep. We manufactured them ourselves at our STOR-X factory in Richmond, BC.
Specialized industrial hardware and ultra-durable materials were needed to satisfy the project's ambitious scope. Engineering, manufacturing, delivery and installation of our massive cabinets all presented unique challenges.
Everything was just much bigger than usual, and so much heavier and much more difficult to maneuver. Diligent planning was critical.
"I believe that the drawers and the structure were as big as STOR-X has ever produced, so we had to do some very careful research. They required specific slides and engineering." – Alex Voogd, STOR-X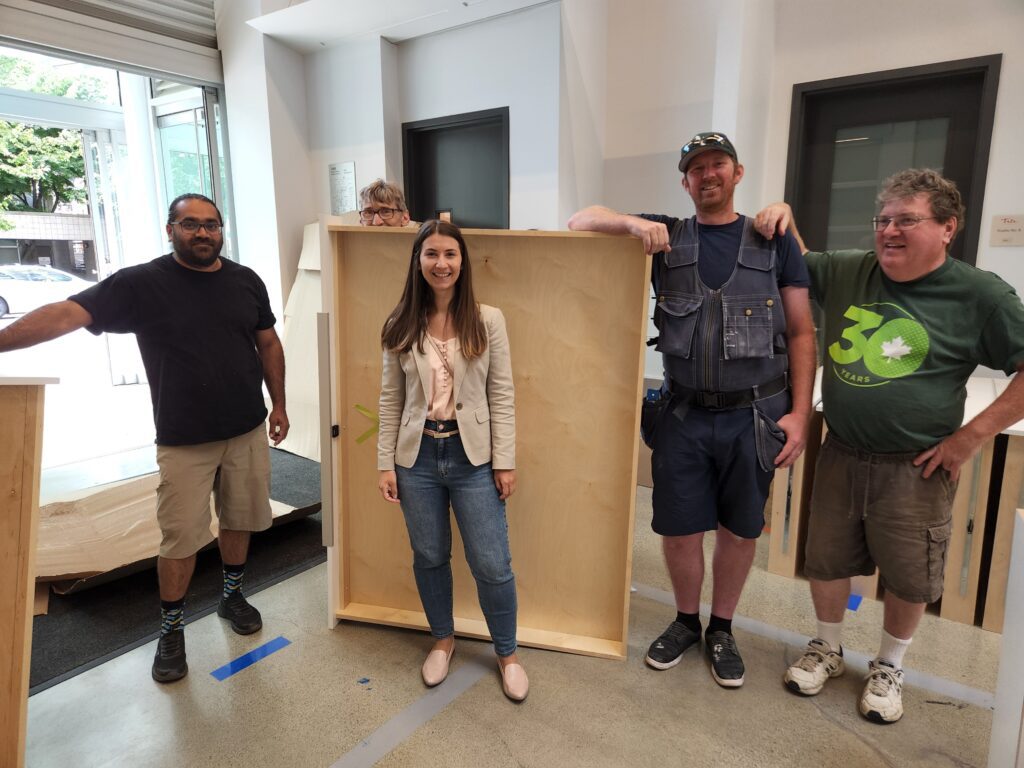 ---
The Show Stopper
In the studio's heart, we installed an oversized island that's over 39 feet long. Part storage, part work surface, part meeting space, it came complete with its own gravitational pull. Everyone gathers around it to collaborate and socialize.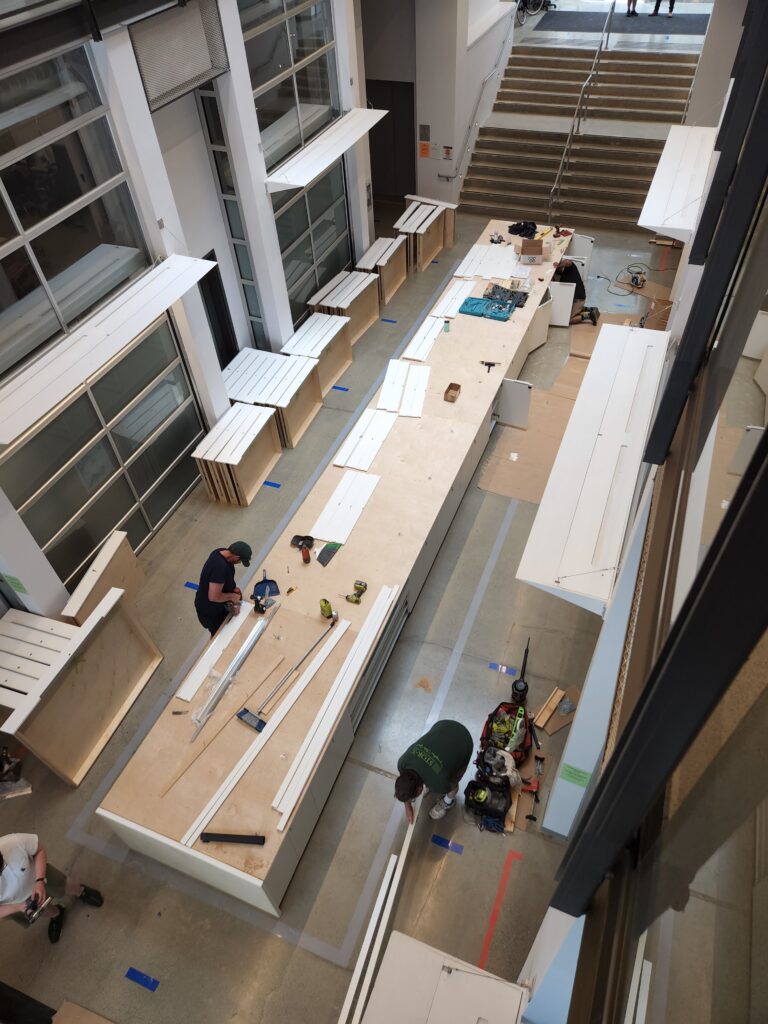 ---
"The island is multipurpose with locking drawers for artists to store large drawings and prints, as well as tools and supplies for art making. It functions as a kind of gathering space for workshops, classes, demonstrations, fundraising events, potlucks… it's like a giant, long table." – Justin Muir, Malaspina Printers
"We did produce one actual drawer as a test prior to placing the order, so we could all have a look in-person and confirm that the sizes were right and everything looked good. Obviously, it's a big project. There was no room for mistakes". – Alex Voogd, STOR-X
---
The Happy Client
Like every client we work with, Malaspina Printers had a vision, and they trusted us to bring it to life. In this case, their vision was extra big. But the thinking, energy and enthusiasm we dedicated to realizing it was just another day of work for us.
"Working with STOR-X was fantastic. The design phase was really seamless. We were able to come up with a solution that met our budget and objectives for storage and counter space within a very unique architectural space. The crew that installed it worked very fast and efficiently. I was impressed with that. And the quality of craftsmanship was great. Just the whole experience from start to end, they were professional and productive and definitely exceeded our expectations." – Justin Muir, Malaspina Printers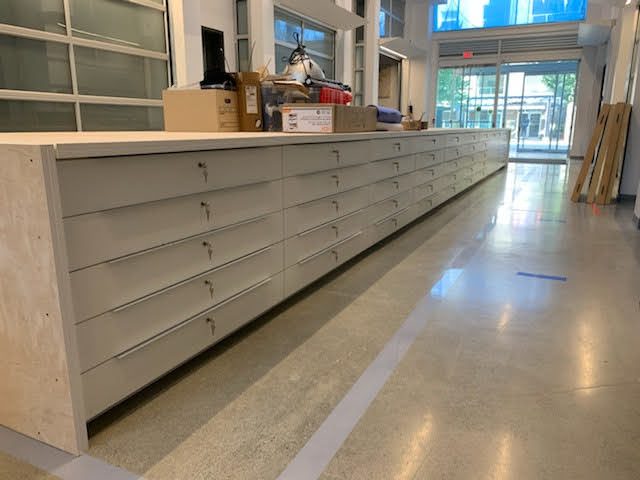 ---
We customize everything…
… so we can customize anything. Does your commercial project have unique considerations? Let's talk about it.
Commercial projects are usually larger and can take more time to discuss, design and produce. Generally, they involve a few more decision-makers than a residential space. But our approach never changes: Listen, plan, and execute flawlessly.
If you're ready to kick off your commercial project, book your free consultation today.