Drive In: Our Top 5 Gorgeous Garages
A standard two-car garage is about 600 square feet, which makes it a solid contender for the largest room in the house. In fact, that's bigger than some entire houses.
When you stop looking at your garage like utility space and start thinking of it as living space, magic happens. Your home explodes with opportunity. The garage itself, obviously, but also the area that's decongested once you've relocated 600 square feet of stuff. It's going to feel like you just moved in.
To get you dreaming of all the bold and beautiful possibilities your garage can hold, we've compiled our best garage organization systems right here.
Let's go!
1. The Super Satisfying Before & After
You may recognize this epic transformation from 'Love it or List It: Vancouver'. What was once cramped and crowded became open and airy thanks to a clever new floorplan. The sub wall was removed to create more space in the garage, which gave us acres of space to design a truly systematic approach to storage.
Heavy duty wall storage hangs off the floor for easy cleaning. We love doors on garage storage cabinets—especially tall narrow ones like these. They keep everything looking clean and give off an interior vibe. And they fit that snowman perfectly. A STOR-Trax wall system keeps the bikes, hockey equipment, and yard tools up high and out of the way. There's now a lot more room to park. Or practice their golf swings.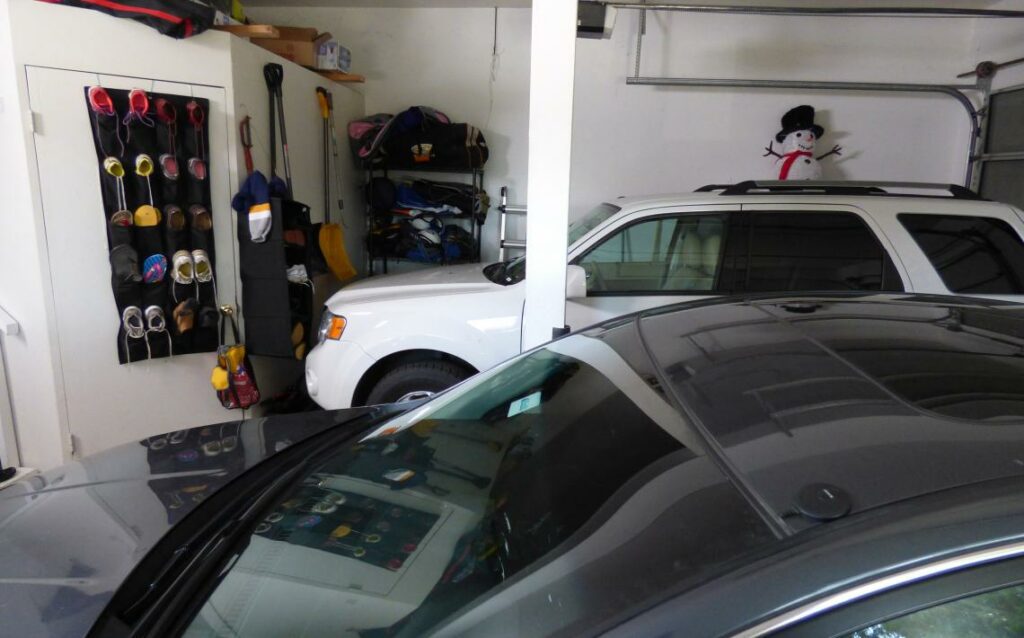 2. The Heavy-Duty Storage Garage
This space needed to be a workhorse, and we delivered. With concrete walls in mind, we gave our signature floating garage cabinets sturdy legs here for additional strength.
Doors on the cabinets, because that's how we roll. They keep everything out of the way and organized, but leave the garage looking calm and clean. And because garages deserve style too, everything's clad in a Folkstone grey finish with bold black hardware that's a perfect match for the glass door track and trim.
This unit was custom designed by STOR-X Victoria.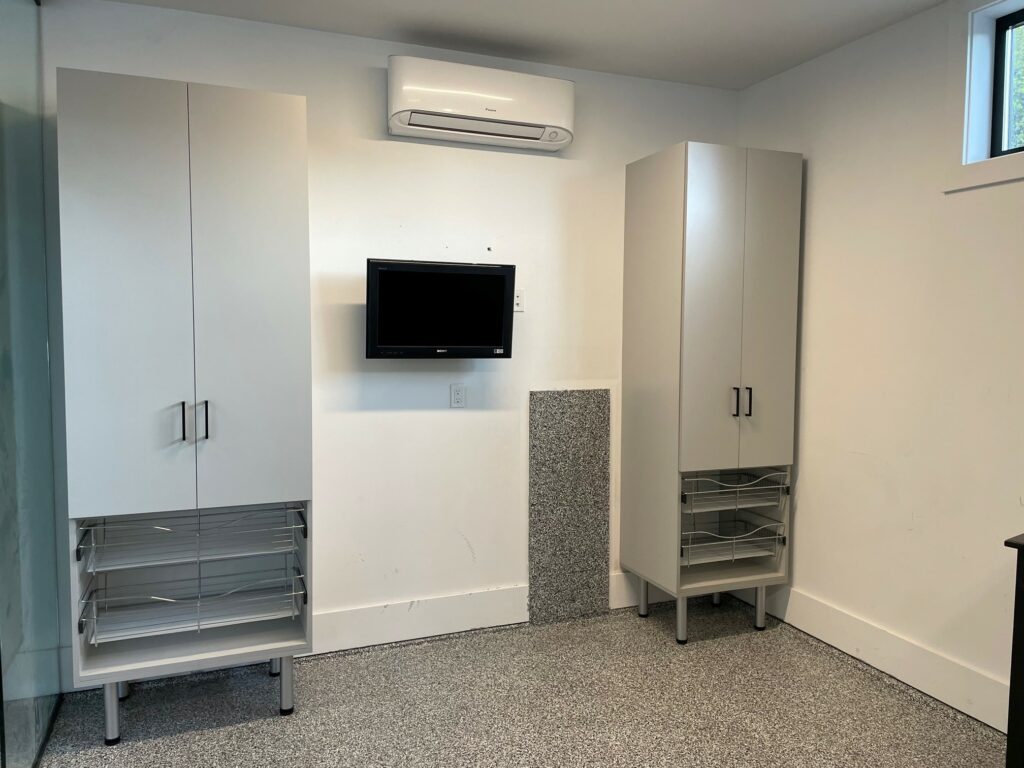 3. Jillian Harris's Ultimate STOR-Trax Wall
For spaces that make you feel instantly at home, Jillian nails it every time. Here, we helped her achieve her vision with an entire wall covered in aluminum STOR-Trax.
This unit was custom designed by our STOR-X Kelowna team to puzzle together Jillian's bikes, scooters, recycling bins, fridge, helmets and family gear.
Shelves, coat hooks and sports hooks get everything off of their garage floor and onto the wall. And can we talk about baskets for a minute? Fabric-lined baskets! Soft, squishy baskets! Structured shallow baskets! They bring the inside outside in a flash, and they hide their contents beautifully.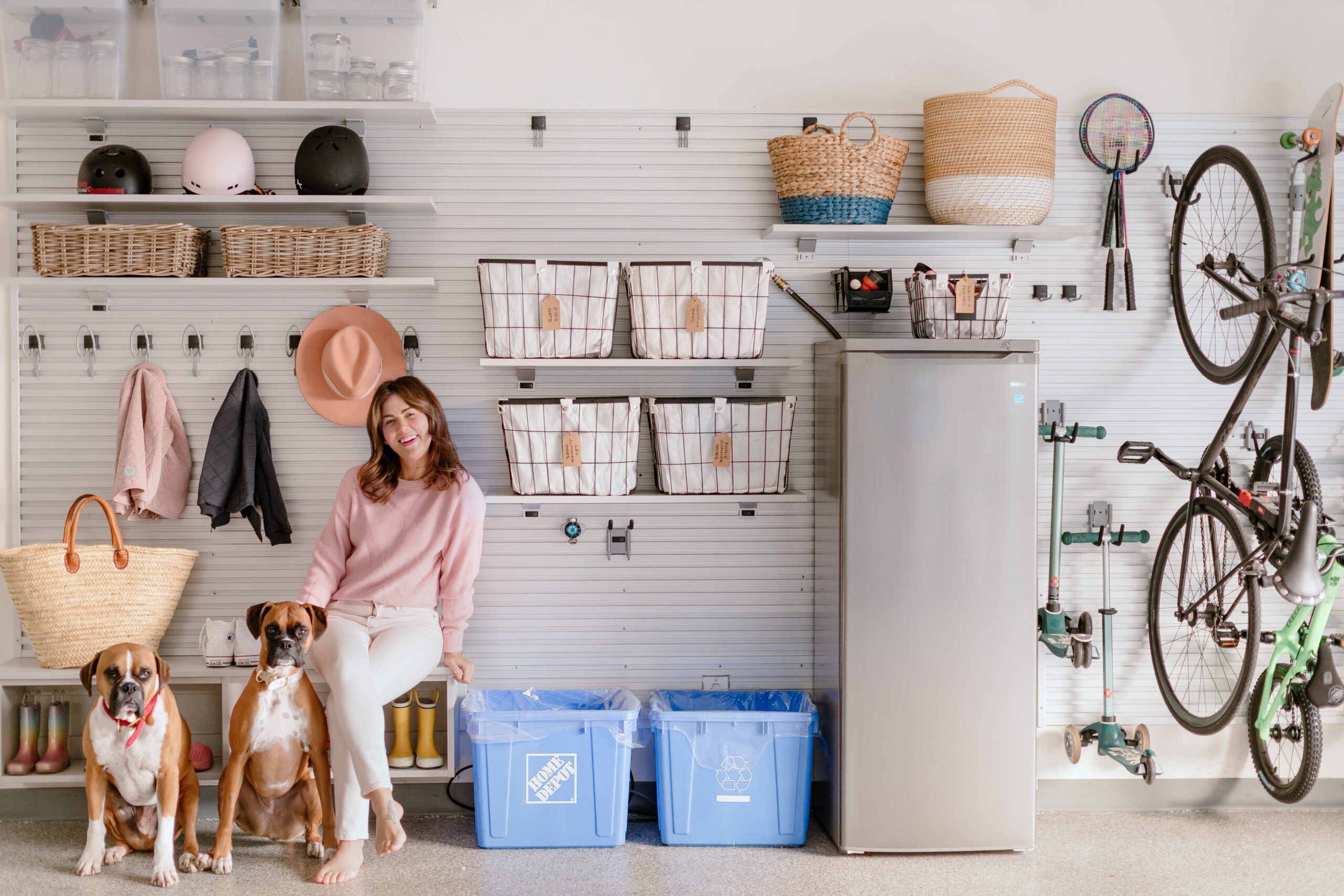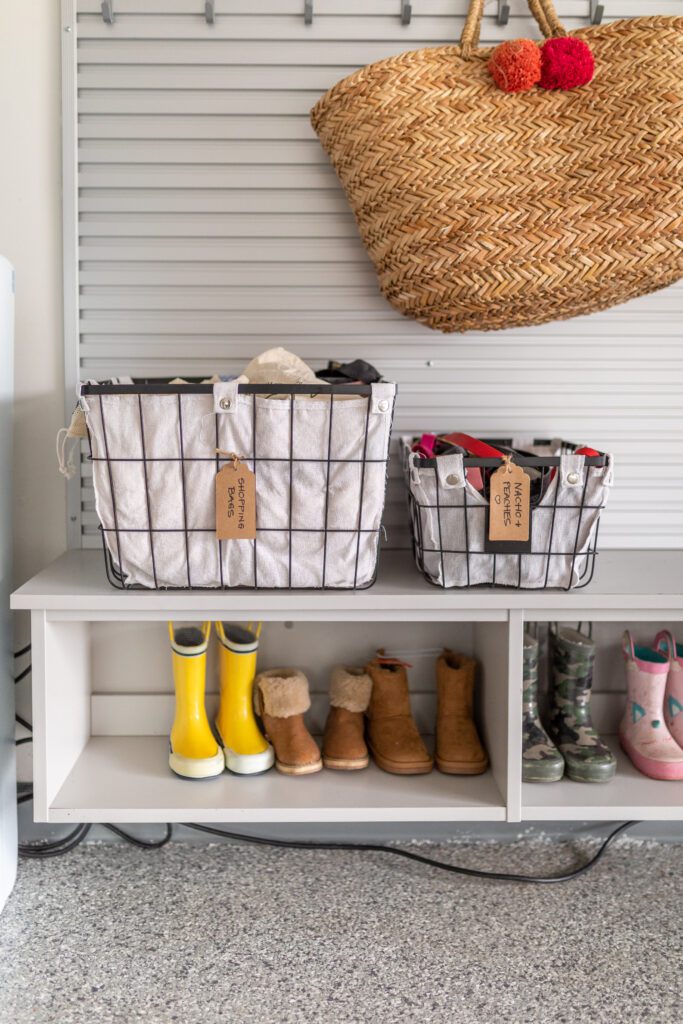 4. Justin Pasutto's Man Cave
Those that know, know that Justin is the other half of the Harris/Pasutto household. Cool garages run in their family. Justin's hideaway had to work as both a work space and fun zone. No problem.
We built him a beefy, full-height STOR-Trax wall for all of his sports gear as well as a mini STOR-Trax wall over his work bench for tools. We gave the bench area a butcher block countertop to handle a heavy work load, lighting to help him focus, and silver stainless profile doors with a checker plate finish for a workshop vibe. Then we lifted it all a foot off the ground for a floaty feel.
Shout out again to our STOR-X Kelowna team.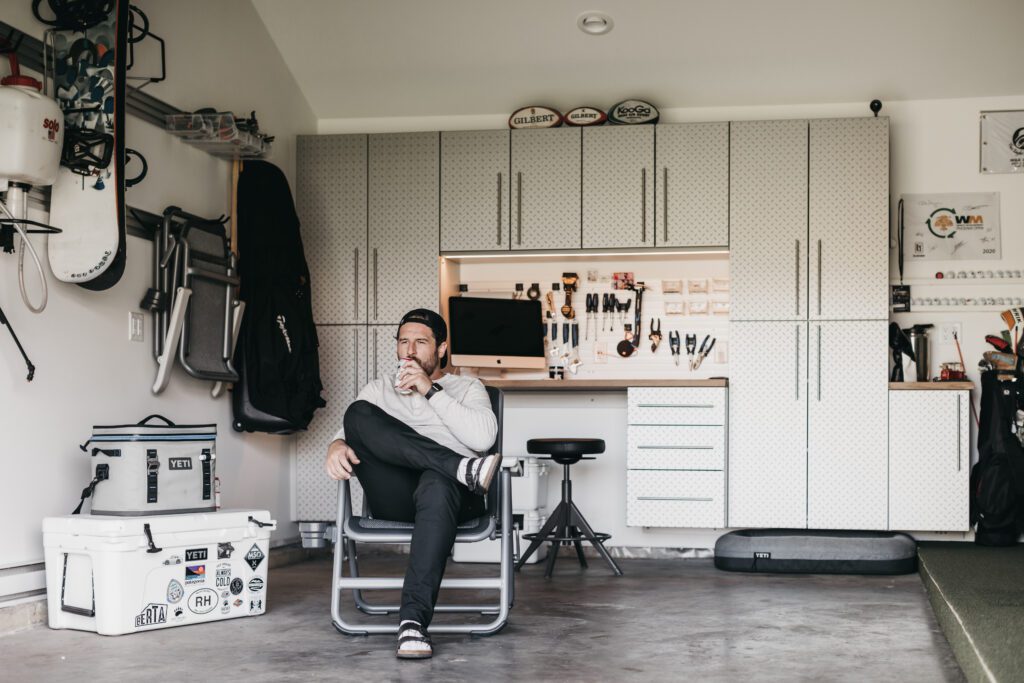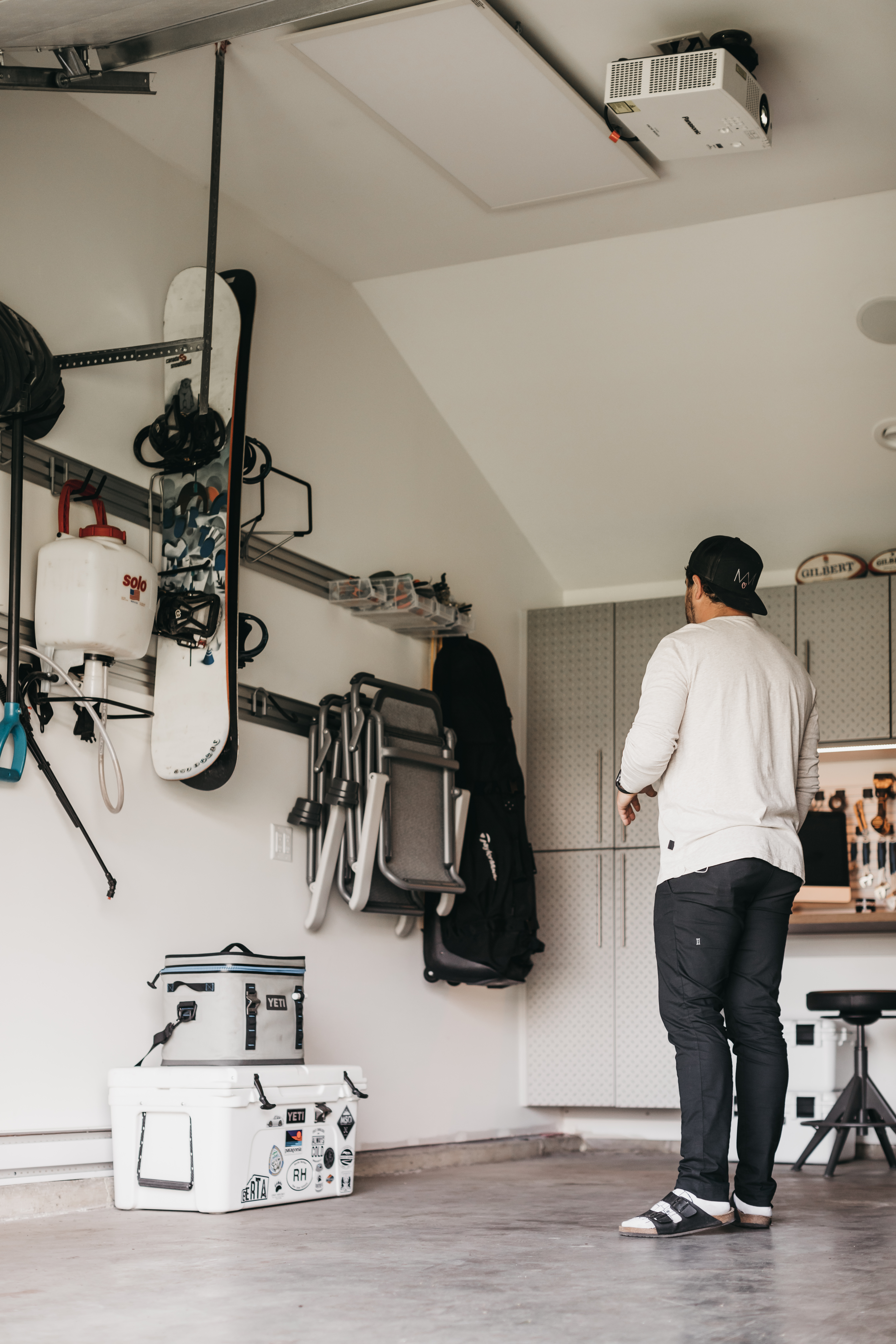 5. Jillian Harris's Space-For-Everything Garage
Turns out one STOR-Trax unit wasn't quite enough for Jillian, so our STOR-X Kelowna team came back. This long transitional wall is bursting with genius garage storage ideas.
We packed in a ton of storage for bins and seasonal items and hid everything behind elegant doors. We custom-fit cabinets to her fridge and tools, and included big banks of shallow drawers to make knickknacks easy to find. Her generous work bench has a small STOR-Trax wall above to organize tools and accessories.
Next to the entry, we anchored the wall with a large open shelving unit to store a whole family's worth of shoes.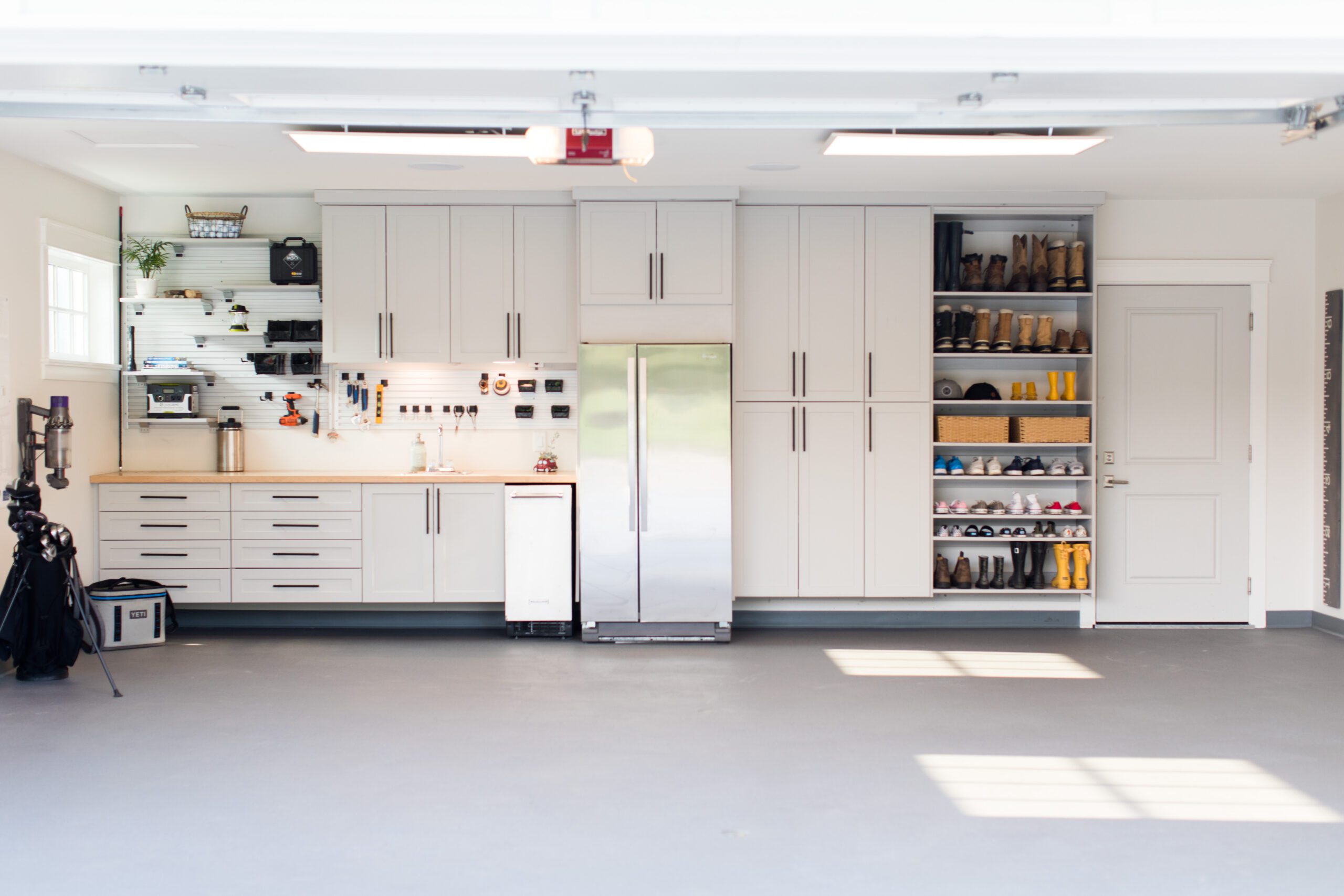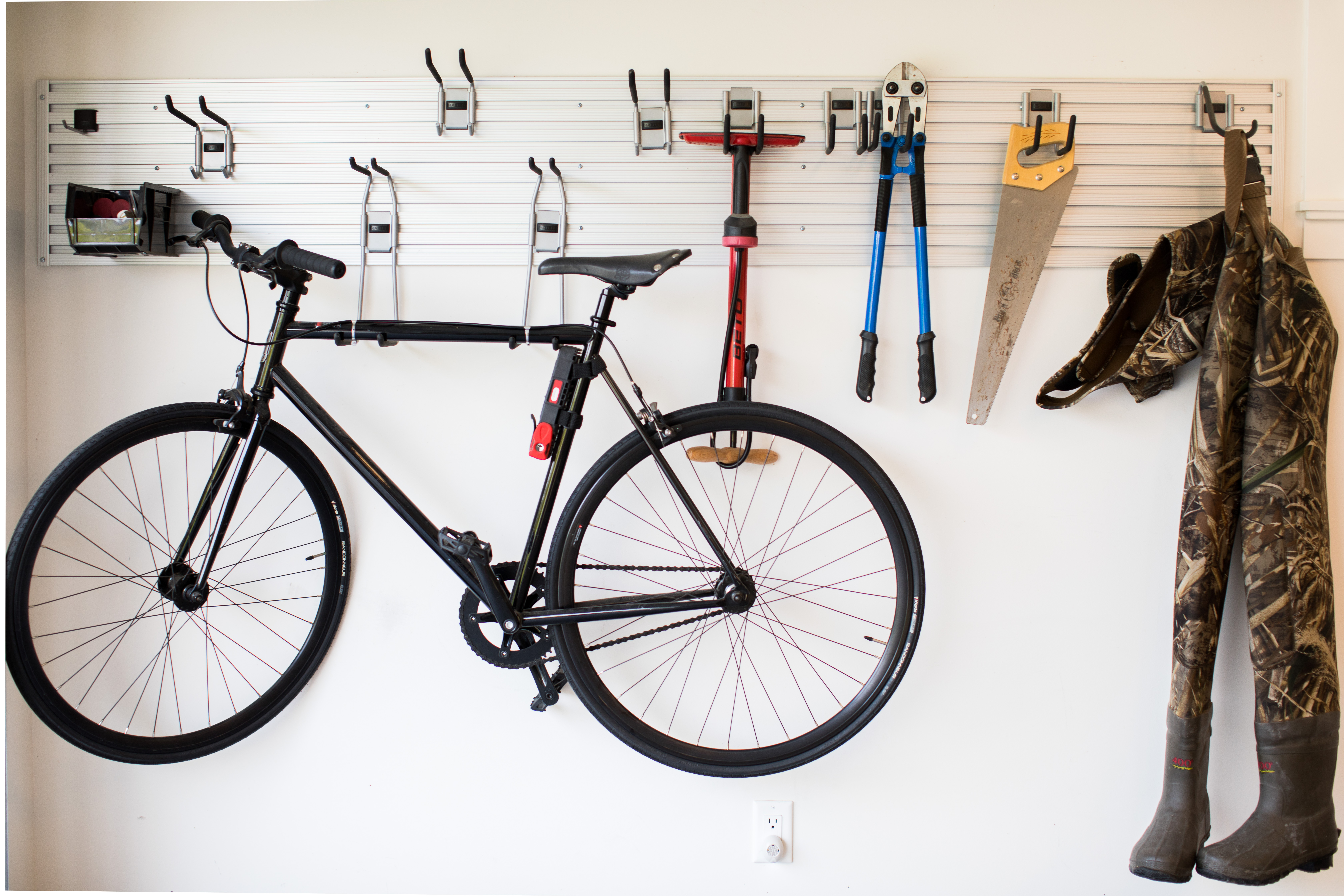 Reclaim Your Space
Most garages are bursting with untapped potential, and summer is a great time to tackle a big organizational project. For safety reasons, some stuff shouldn't be stored in your garage, like:
Paint: Extreme cold or heat can ruin it. Store cans in your basement.
Propane: A spark could ignite the fumes. Keep tanks outdoors.
Paper Goods: Stacks of paper towels and toilet paper rolls can attract bugs. Move them to your pantry.
Pet Food: Animals big and small will sniff it out. Keep it in a sealed container inside.
We'd love to help you reinvent your 600-ish square feet. Book your free consultation today, and you'll have a whole new garage to love before the fall.