It's Bin Fun: The Best Containers and Baskets to Store Just About Anything
You've finally done it. After countless weekends dedicated to clearing out your closets and cabinets, a beaten path to Goodwill, and a whole new respect for your blue recycling bin, you've decluttered. You're down to the essentials, and it feels marvelous. Light. Airy. Accomplished.
And while you could tuck everything that remains away neatly in old cardboard boxes, we have a few other ideas for you. After all that work, we think you deserve storage containers that celebrate what's inside them.
Let's get started.
---
Best for Soft Stuff – Cotton Rope Baskets
Giant, soft baskets like this one won't snag your woven blankets and are generous enough to fit a comforter and two pillows. They look great in your bedroom and offer a fast fix for seasonal temperature shifts. When it snows in July (in Canada, it's happened), you'll be ready. They also look fabulous in your living room filled with throw pillows or in your kid's room busting with stuffed toys. On the downside, they don't hold their shape well when they're empty. Keep a cushion or two in there to stop the flop.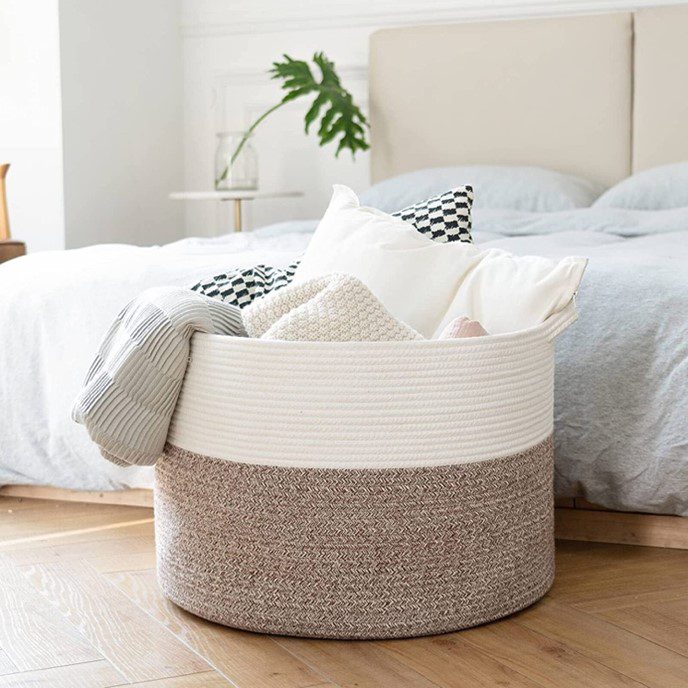 ---
Best for Small Stuff – Clear Acrylic Boxes
"Small" is a beefy category with a lot of variables, but so is the Amazon search for clear acrylic organizers. The smaller the item, the easier it is to lose it, which makes clear the way to go. You can see everything at a glance. Fill your fridge and pantry with these. Organize your bathroom medicines. Get your make-up looking presentable. At least once a year, you're going to want to run these through the dishwasher, because they also make dirt and fingerprints easy to see.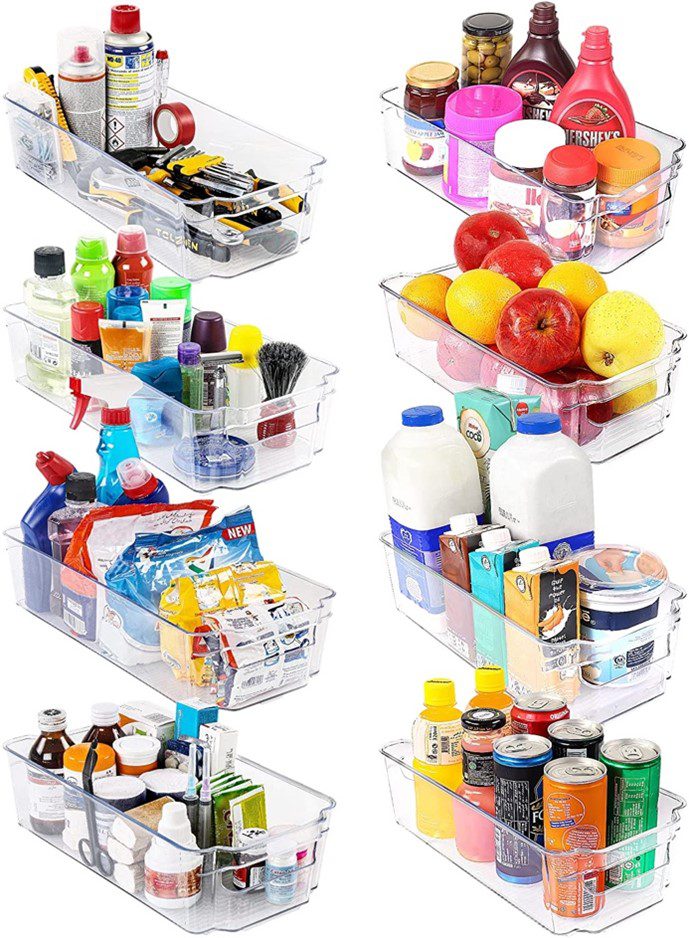 ---
Best for Basements – Big Poly Bins
Say hello to the Rubbermaid isle at Canadian Tire. They call their line of low-density polyethylene bins "Roughneck" because it's basically indestructible. These stackable storage bins nest together beautifully for a cohesive look, while blues and greys keep them from looking dated. Invest in a full suite and you'll never need to buy more. Fill them with Christmas decorations, tools, camping gear, sports equipment, and gardening supplies. Beware: Bigger isn't always better. Split up heavy items into smaller boxes, and give each holiday or sport its own home. Label the side with the handle, and face it outwards.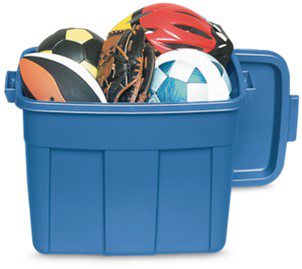 ---
Best for Laundry – Rattan Baskets
We have a soft spot for the SNIDAD from Ikea. It's cheap, sturdy, and blissfully snag-free. It's braided by hand, and adds a soft touch to anyplace that collects dirty clothes and wet towels. And it's ultralight, so it's ultra-easy to lug around the house. At 21" wide, it also fits nicely inside of an average closet. Replace all of your boring plastic rectangles with this beauty, and you'll love doing laundry just a tiny bit more.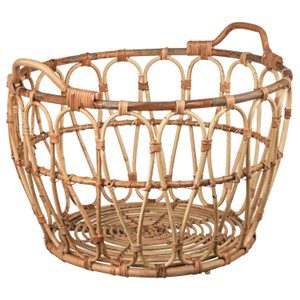 ---
Best for Desks – Bamboo Organizers
Warm up our cold, capitalist world with some honey-toned bamboo. We like this one from Wayfair, but there are plenty of other configurations to choose from. In our opinion, a good desk needs a few non-essentials. A plant. A photo of your kids. A snow globe from your ski trip. Choose an organizer that can keep your thumb tacks and business cards close at hand, but that also does a good job of displaying the things that keep you motivated.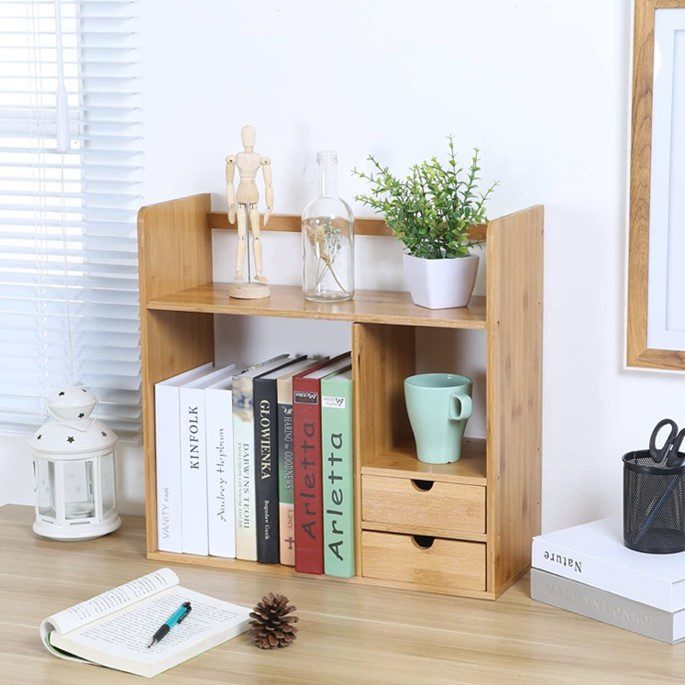 ---
Best for Pretty Much Anything Else – Perforated Poly Bins
These Nordic Storage Baskets are from The Container Store, and they're tough to beat. Holes make it easy to see what's inside, lids make them stackable, and handles make them super practical. Label them with a dry erase marker, then wipe off and re-label as needed. Did we mention they're 100% post-consumer recycled material? Bonus points.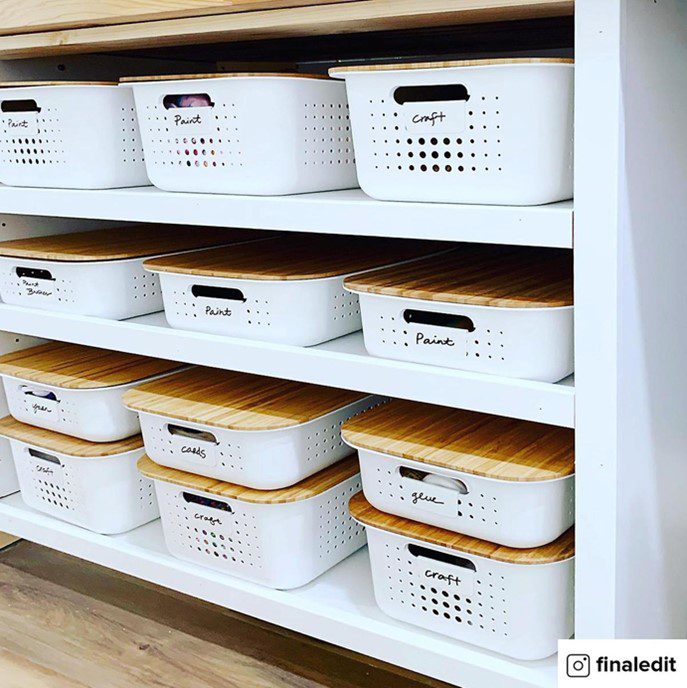 ---
Keep on Binnin'
If storage baskets and bins get your pulse racing, we have good news. Netflix has 16 hour-long episodes dedicated to smart, sustainable, and beautiful organizing systems called The Home Edit. We're obviously riveted. Turn your closet into a full-on rainbow, and then just sit in there and drink your coffee every morning.
It's a great way to start the day.