As a Kelowna-based performance coach, he works with professional athletes focusing on weightlifting, nutrition and movement. He also spent over a decade in the NHL as a head strength coach – seven years with the Toronto Maple Leafs and five years with the Anaheim Ducks.
Moving to Kelowna from California presented a unique work challenge for Mark because, as he put it, "everywhere we live is my home office."

A Place for Work… and Working Out
To concentrate his workspace in one area, Mark set his sights on the garage. He knew it would be an interesting project because it wasn't just where the family stored their items, it was also where he spent a lot of time working, often with clients. "It was 90 percent gym and 10 percent garage, but it still had to be functional," says Mark. "We needed the space to be both flexible and versatile. There had to be places for storage and demo equipment and working out."
Mark and his wife wanted to invest money in the right space and researched options for adapting their garage into a flex room. They knew their requirements were different and out of the box. "We couldn't just go and buy shelves from the store," says Mark. "It had to be well thought out and engineered. And it was more than just a custom design project."
Enter STOR-X Organizing Systems consultant, Allan Dieckmann. It was a good match, says Mark, because they were both "…speaking the same language. He understood immediately what I wanted to do, what I was trying to accomplish."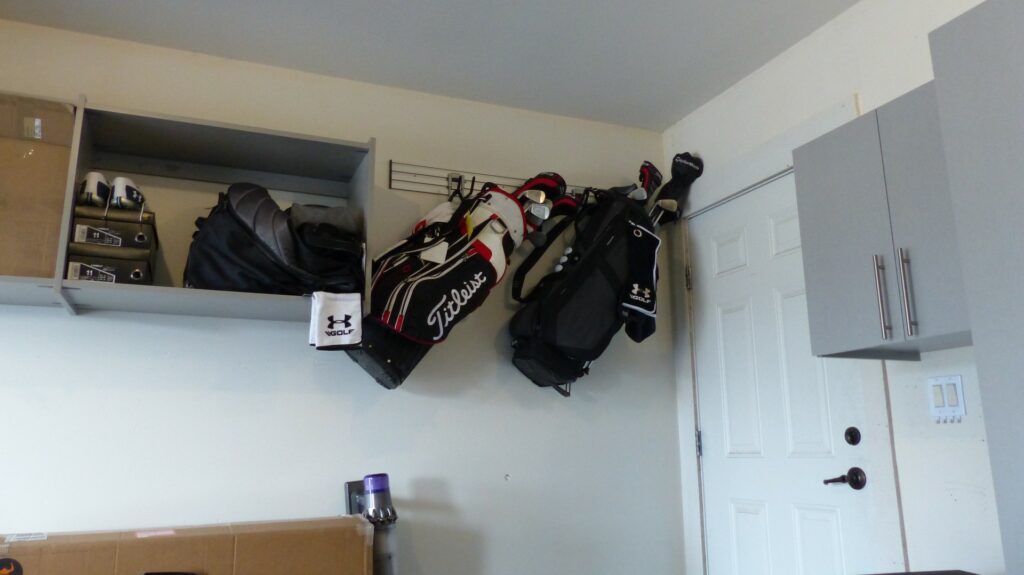 Creating a Flexible Space… for Everyone
"Allan was thinking bigger though," says Mark. "He was thinking about things that even I hadn't given much thought to like what about a work bench area. Normal garage space where you could open a can of paint. And cupboards where you could store garage items because otherwise they're out in the open and it looks messy."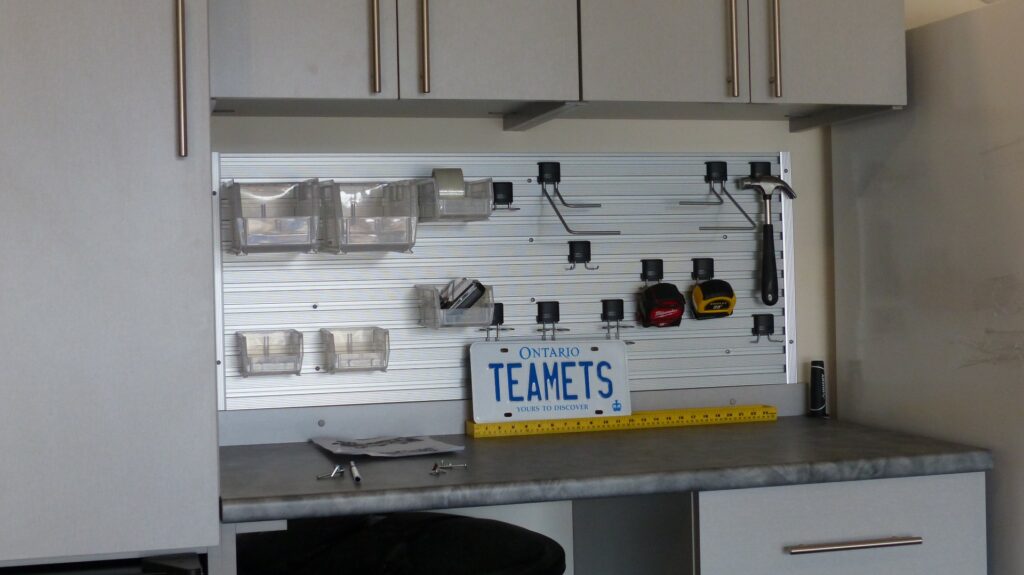 "Mark had some very specific needs for his space," says Allan. "But it was important that we understand the space as well as those needs. I wanted to know how that space would be used, how would people and work flow through it."
"I wanted to get them thinking how they could use the space seasonally because you use your garage differently in summer than you do in winter. It wouldn't be just Mark using the space, it'd be his wife and his kids too. Where do the bikes go in the winter? Where do the snowboards get stored in the summer?"
"It was about finding out who was using it and for what purposes?"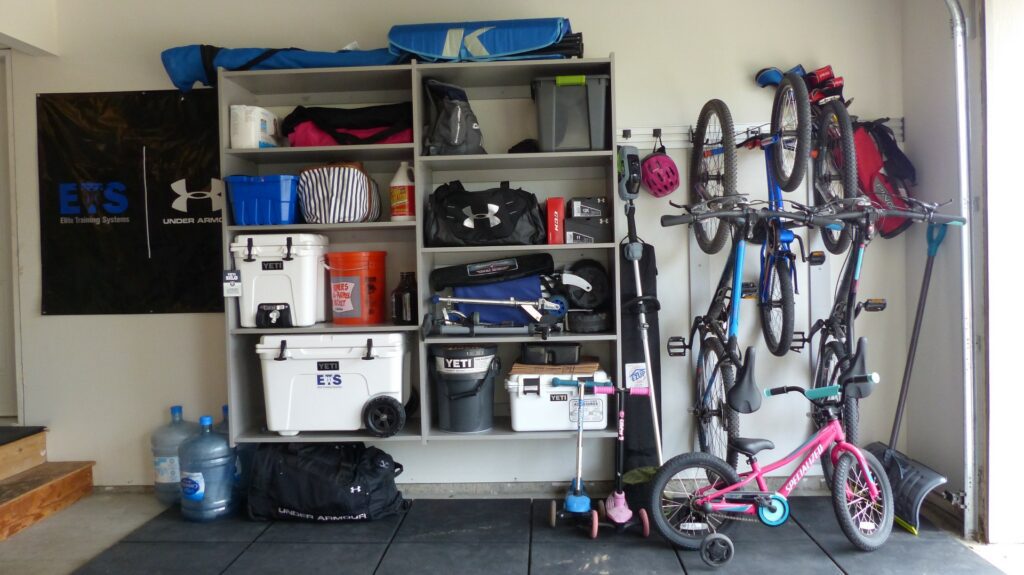 This "different users, different user groups" approach was the foundation behind conducting a true needs analysis, according to Allan. It meant asking a lot of questions and making sure everyone – not just Mark – was involved and had input. "If you don't do it properly, you won't land on the right solution."
Custom Designed… Performance Driven
After a six hour install, Mark was blown away with the transformation thanks to the STOR-X custom designed pieces. Part of his job requires that he work with different companies and try out their products. With that in mind, the redesign of the garage included specific, made-to-measure shelving to fit those components.
"It's what every athlete looks for," he says. "This is like my lab – it's where I do testing, training, assessment and unofficial research. I can't believe the versatility of the product, how they could customize the shelving and compartment sizes."
"Allan even included space for a wine fridge," he laughs. "it fit perfectly."
Getting creative with flex space, Allan says, starts with understanding how a product is made and how it can be adapted for use. It's also about knowing the possibilities – as well as the limitations – of the materials that you're working with.
"Most importantly, it's about defining the space as much as possible. How will the space be used? Who will be using it? Once we know the answers to those questions, we can move forward with strategic planning and design for a truly custom experience."
Click HERE for more from Mark.