As an artist, Kaitlin Hargreaves is no stranger to amazing transformations. But when it came to turning her cluttered two car garage into an inspiring home office, even she needed a little help from the experts.
Most recently she has entered the world of content creation, building a vibrant community of followers who share her passion for all things beautiful. This shift in focus has been accompanied by a shift in the way she works, with Kaitlin increasingly operating out of her Langley, BC home.
Without a dedicated space to work from she quickly became overwhelmed. It's a problem we can all sympathize with given the current state of the world, but when beauty is your day job, how do you create a space that is both practical and inspirational?

Turning Wasted Space into Wanted Space
The first challenge when it comes to creating a home office is finding somewhere to put it. Fortunately Kaitlin had already earmarked a space – the double garage that neither she nor her fiancé Keith used.
With the space sorted the real challenge began: How do you transform a utilitarian structure into an inspirational home office?
"Kaitlin had big plans for her garage space," says STOR-X consultant Horace Tung. "She wanted to transform a redundant garage into a usable space that could house a home office, as well as a pantry, freezer and plenty of storage."
Putting her creative talents to full effect, Kaitlin had already drawn up rough plans and ideas for how she wanted to use the space, as well as a mood board to govern how it would eventually look. But she needed help to turn her ideas into a reality.
"She was so great to work with. Inspirational, fun and full of unique ideas," Horace explains. "Where we came in was making those ideas a reality. It all starts with a consultation where we sit down and get to know Kaitlin and what she wants from the space. Then we worked to put together a design that didn't just look great, but also took into account the little details that add up to make a big difference."
Those little details are all important. Addressing things like the size of freezer Kaitlin wanted, the kind of items she needed to store as well as the size and structure of the existing garage, were vitally important to creating an ideal office environment.

Before & After:
Where Form Meets Function
With a busy e-commerce business to run, Kaitlin needed a space that had plenty of built-in storage for the packing materials, products and supplies that her day-to-day work involves. However as an artist and creator, she also needed a space that was inspirational, where she could hide away the clutter and focus on the task at hand.
Storage was key and so Horace helped to create a space filled with cabinetry to suit every purpose. Not only did these cabinets provide a place to hide away clutter, they were also easily adjustable so they could make maximum use of the vertical space Kaitlin had available.
Horace also worked closely with Kaitlin to ensure that the space wasn't set in stone, and that the flow and feel of her home office could change throughout her day.
"One of my favourite pieces is the rolling work station that we custom built for Kaitlin," says Horace. "It was something that we specifically designed just for her, with every little detail mapped out to meet her unique needs. The end result is beautiful. Fully maneuverable, it features flip-up sections that more than double the available workspace. We also built in six shallow drawers to keep small items as well as larger cabinets and even a hidden recycling bin. It's designed to flow and adapt to her changing workload."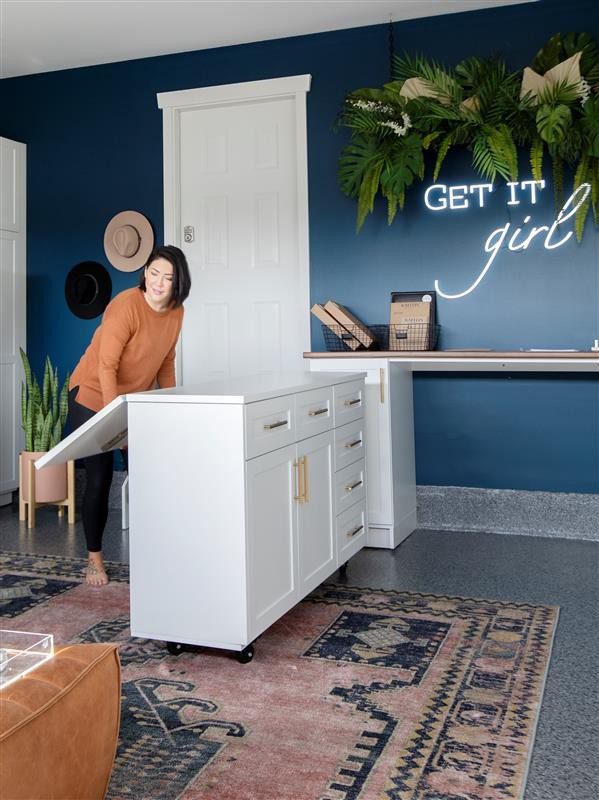 Pro Tips
Like Kaitlin, many of us find ourselves working from home right now as a result of the global pandemic. Even as the world begins to open back up, it looks like working from home, in some capacity, is going to become the norm.
Therefore, more and more of us are looking to incorporate a dedicated office space into our homes. So what advice does Horace have for creating a home office that combines form with function?
"You have to start somewhere," he says. "Whether it's an idea of the kind of style you want, the function your space will need to serve, or even where you are going to put it – once you have the first piece of the puzzle in place, the rest of the process flows from there."
Of course, a little bit of expert help goes a long way too. And as Kaitlin's project shows, a combination of inspiration and hard work can transform even the most uninspiring of spaces into a glamorous home office.

Before & After: