Think of STOR-X and you probably conjure up images of our residential work and the kind of custom-built solutions you've seen in your neighbours' homes or on hit TV shows like Love It or List It.
But did you know that STOR-X also works on commercial projects too?  
 
Small Space Experts, Big Picture People 
For more than 30 years we've worked to help people organize their homes. Whether it's a mudroom, a home office, or a messy closet, we're proud of the creative design solutions that have made a big difference to our customers' small rooms.
What we've realized over the past three decades, however, is that it isn't just homeowners who can benefit from our skills; the building industry can too.
"STOR-X was built on the idea that innovative solutions can be delivered on time and on budget without compromising on quality or customer service," says STOR-X president Wolf Nickel. "Those key attributes are just as important for commercial projects as they are for residential homeowners."
With experience rooted in the building industry, STOR-X knows what it takes to get the job done. That's why we're ideally placed to take the stress out of commercial projects; it's simply a case of scaling up the same level of exceptional service we've delivered for decades.

Quality Service in Action 
If you want to see STOR-X's commercial arm in action, you need look no further than Edson, Alberta, where franchisee Yvonne Barker recently wrapped up an ambitious project with the Evergreens Foundation, a non-profit housing management body that has been providing affordable housing options for more than 50 years.
The foundation's latest facility is the Parkland Seniors Lodge, a brand new residence that's home to more than 105 seniors as well as more than 250 closets, maintenance rooms, storage, laundry, and linen spaces – all of which were designed and installed by Yvonne and her team.
Typically on a project of this scale, a contractor would take a cookie-cutter approach with the same storage solutions going into each and every residence. But when it came to Parkland Lodge, an altogether more tailored approach was needed.
"It was a really good project to work on, but it was also a challenge. No two rooms were alike and every room had to have its own measurements," says Yvonne.
"Some of the residences had big storage rooms in them, others had smaller spaces. The majority of the closets in the Parkland Lodge also had electrical access in them, so we had to work around those while also dealing with different heights and different configurations. It took a little bit of design expertise to make sure that each of the rooms worked."
"What impressed me about working with Yvonne and STOR-X was how they specifically tailored their service to suit our needs," said Kristen Chambers, CAO of The Evergreens Foundation (for Parkland Lodge). "From our very first conversation STOR-X didn't want to know about dimensions or costs, instead they asked us about our goals and what our clientele wanted from their closet space. They weren't just offering me products or services, they were offering a solution to our unique problems."
"From day one Yvonne was very much a part of the project," she continued. "From planning to installation she was always on hand to help and her expert guidance ensured that we didn't just finish on time and on budget, but we created spaces that our seniors will be able to enjoy."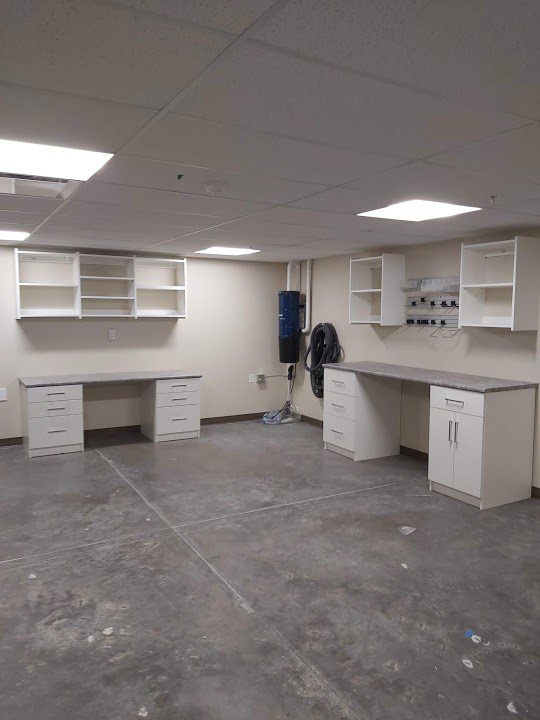 Evolving Alongside the Customer 
STOR-X's experience enabled us to work around the quirks of the Parkland Lodge project, providing a tailored solution to more than 250 closets. But when The Evergreens Foundation asked us to work with them again on a new 101 room development, we came up with a solution that would benefit everyone.
"Adaptability is important," says Yvonne. "We learned a lot of lessons from the Parkland Lodge project that we fed back to the client, who in turn took them on board for their next development. Something as simple as deciding on a uniform location for the electrical panel in every room means that installation will be quicker and easier next time around."
It's exactly the kind of individual customer service that you'd expect from our residential arm, except that it's scaled up to a commercial level. But STOR-X didn't stop there.
"After our experience on the project we actually invested in new machinery that allows us to get more material out of each product," says Yvonne. "By doing that, we're going to be able to custom cut each closet next time around and save the client 5% on their overall order, which is huge when you're talking hundreds of closets."
"Would other companies be able to accommodate or offer that? I'm not sure they would. We're not compromising on design or quality; we're just able to remove a quarter of an inch where nobody would even notice it and present the client with the exact same product at a significant saving."
For Wolf, it's an example of the advantages that come with contracting STOR-X consultants for commercial projects.
"In any commercial project, there are a lot of balls in the air at any given time, and coordinating all of them within a given timeline can be very difficult," he says. "Our franchisees are able to take advantage of our lean manufacturing processes to nail down a tight schedule and deliver a high-quality product with an accurate budget on an accurate delivery schedule."