Spotlight on Size: Tips and Tricks on How to Maximize Space in Small Rooms
You don't need to be a home improvement super star to transform your home into a beautiful spacious sanctuary. You just need to know how to reorganize your unique space for greater impact. Here are seven solutions that could turn your nooks and crannies into functional spaces.
1. Customize Upright Mudroom
When space is limited, go vertical. If you only have a sliver of wall space by the door, consider installing a single customized cabinetry system. With shoe baskets at the bottom, coat racks at arm's reach and shelving up top with baskets for outdoor accessories that you don't use every day such as mittens and toques.
If the wall by your entryway is a little wider and there are multiple children in the home, you may want to consider building a family-style coat closet. The idea is that everyone has a designated row – complete with reachable cubbies for the little ones and mini lockers above for everyday outerwear. This way, each child is responsible for their assigned space and you won't wind up with a pile of backpacks blocking the door at end of every school day.
(Photo: https://www.thesunnysideupblog.com/2014/04/my-new-organized-mudroom/)

2. Embrace Architectural Quirks
If your home has a small irregular space or deep indentation that doesn't seem to serve any purpose, then you my friend, have an architectural quirk. But don't worry – it's easy to turn this flaw into a feature.
If it's in the hall, for example, you could install a customized, floating writer's desk with shelving above. Or if it's in a bedroom, how about a mini dressing table with a mirror above to reflect light and make the space feel larger?
3. Streamline Media Areas
In smaller homes, built-in media centres are the best way to maximize space. A well-designed wall unit should put your flat screen at the centre and include a combination of open shelving to display treasured items and closed cabinetry for unsightly odds and sods – for there is no greater eyesore than a graveyard of defunct remote controls.  
To create a sense of spaciousness, your customized entertainment wall should be painted the same color as the rest of your walls. This will give your modest abode a clean, airy look and feel.
4. Define Living Zones
In order to create the perception of space in an open-concept condo, every living area should serve an obvious purpose. The trick is to visually partition off areas without physically breaking up the flow of your room. This is where rugs come in. 
Most designers agree that putting one under the coffee table will not only tie the living room together but add space-enhancing texture and depth. Then, depending on your configuration, you can place another rug under the dining table to delineate the eating area from the entertainment area. If you opt for two rugs, they should be complementary yet distinctly different in size and pattern. One should be simple and plain (jute, for example), and the other should make a bolder statement.
5. Integrate Home Office
If you work from home and space is limited, you may have no choice but to set up an office in your living room and that's okay. But what happens when you're off the clock? You don't want a big clunky desk in the middle of your living room reminding you of looming deadlines.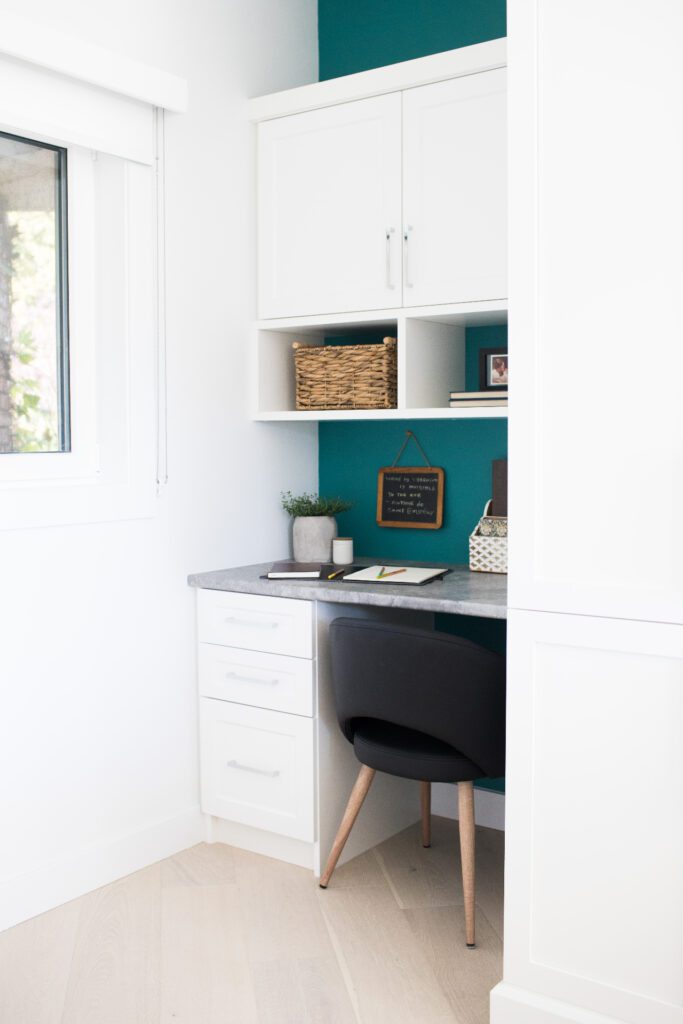 The solution is simple. Build a custom integrated workspace that is the same solid color as your living room walls so that it blends. We recommend opting for white. This will open up your space with reflective light.
6. Reorganize Your Pantry
When counterspace is sparse, a well-organized pantry is a great way to declutter limited food prep areas. Most experts suggest starting from scratch. In other words, don't just shuffle things around on the shelves. Rather, pull everything out of your existing pantry, and really think about how to best organize it.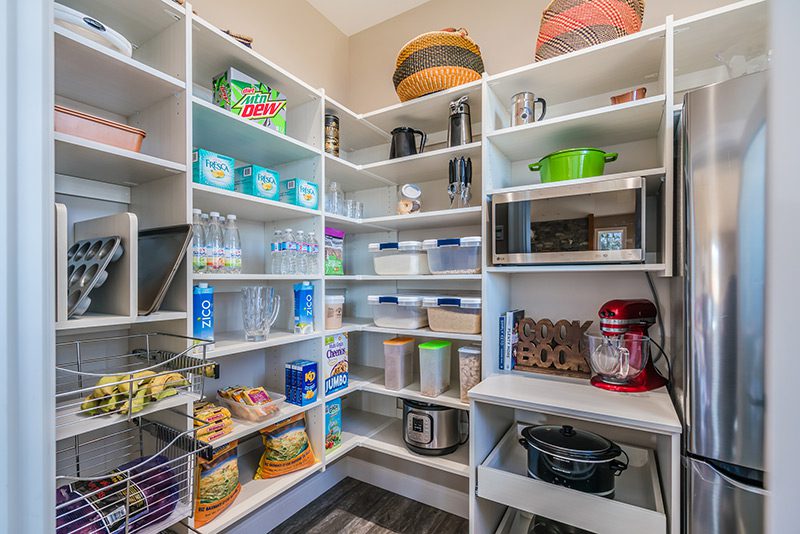 You may need customized shelving to accommodate bigger appliances such as your food processor, rice maker and crockpot. You may also need pull-out rack drawers for perishables that need to be stored in cool, dark places. If your home doesn't have a designated pantry, then installing a customized cabinetry system may be the way to go.
7. Rotate Seasonal Clothing
No walk-in closet? No Problem. You just need to switch out your clothing twice a year. During spring and summer, keep all your light clothing in your bedroom closet and neatly pack away all your fall and winter clothing in an under-bed storage system and then vice versa in autumn. Bonus: The process of rotating is a great way to take inventory and edit down. You'll find pieces your forgot you had and pieces you wish you didn't.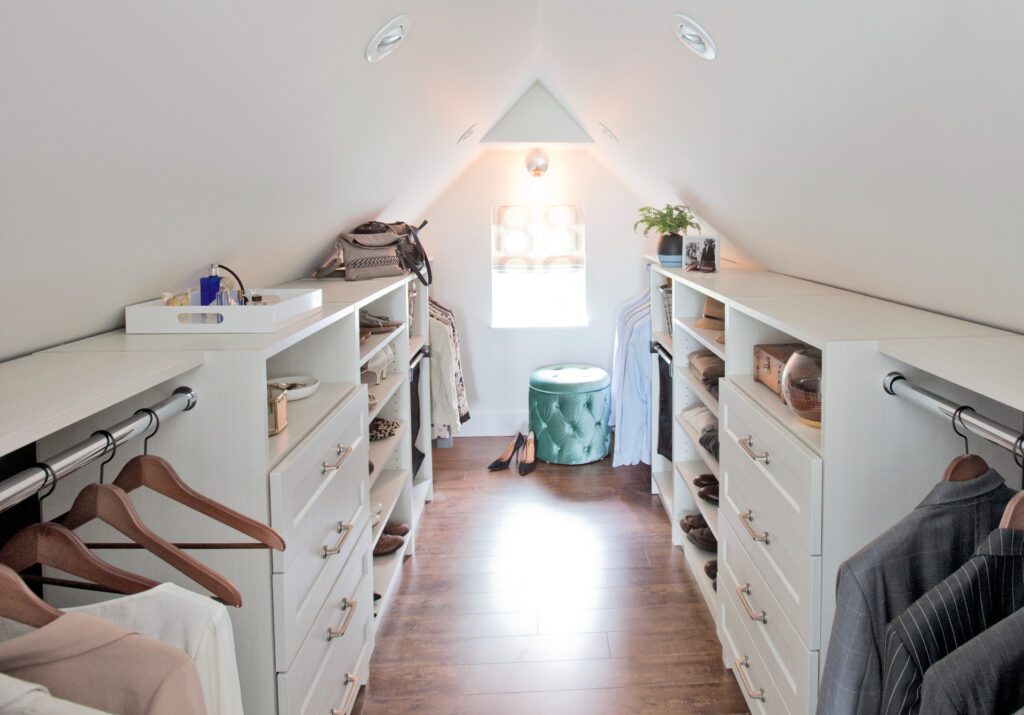 If all your seasonal clothing can't fit in storage units under the bed, consider installing extra shelving above your closet racks, so that you can put suitcases of clothing on the top shelves. This will keep off-season garb out of the way and your seasonal threads on display for easy access.
If you have a space that could use some help request a complimentary consultation today.