It might still be August but fall is fast approaching. This typically means a return to fall routines, including back to school. Even with current COVID restrictions in place, heading back to class will soon be a reality for many but, rather than dreading the ensuing chaos and confusion, try putting in place a few organizing and storage hacks to help make your mornings a little smoother and less stressful.
Start off with a "to do" that outlines everyone's morning tasks. The list could be as simple as including a rundown of what needs to be done and by which family member (ie Sara – feed dog, Josh – recycling) or as detailed as you think is necessary. But keep it specific to the morning and try to focus on only the essential activities. This helps ensure that chores are being taken care of, no one spends precious minutes looking for something and you don't need to worry about anything being missed.
Entryway/Mudroom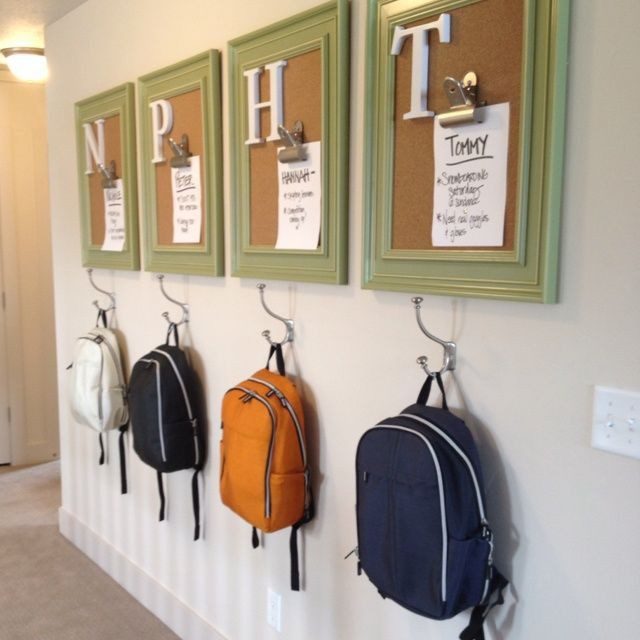 Image from Pinterest
If you don't have room for a proper mudroom by your main entrance, allocate an area for a 'drop zone' -a designated space where things like backpacks, books, shoes, jackets and other items are dropped and stored. This way, they're always within easy reach as family members leave in the morning. To personalize it, consider adding baskets, hooks or canvas closet organizers with names. Add a hall tree or repurpose an unused side table to help add more space for smaller drop zone areas.
Are there items that you, your kids and your partner use on a regular basis? Tired of continually hunting them down when they're needed and running from room to room to gather them up? Keep everything pulled together in a handy zip bag or fabric pouch and within easy reach. This could include things like small first aid kits, school supplies and items to keep little ones occupied during a car ride.
Kitchen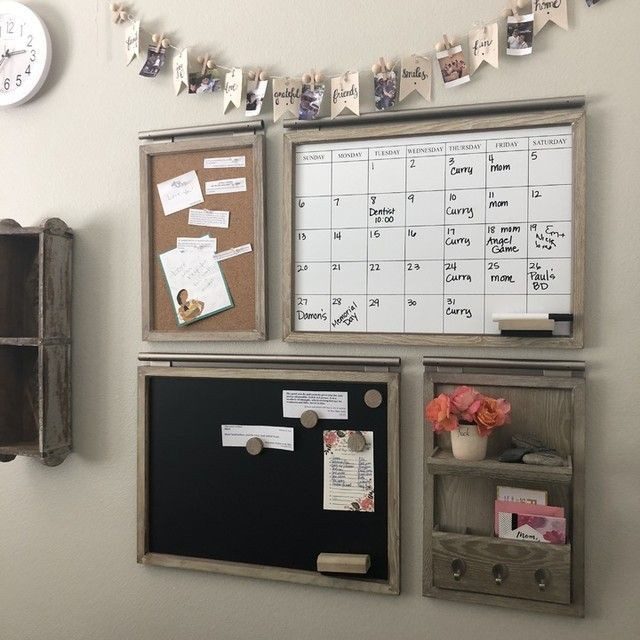 Image from Pinterest
Set up a "command post" in one corner or cupboard of the kitchen. This is where important papers are stored, notes are left, lists are made and coupons or gift certificates are kept. It can also be a place for hanging keys that aren't used often but still need to be handy (like the tool shed, for example).
Consider adding some tiered shelving to your kitchen cupboards. Not only does this let you see everything at a glance (so you don't spend time moving jars and cans around), it also increases your space availability because smaller, flatter items can slide in underneath.
Additional tips:
Show the junk drawer some love. Make it easy for your family to keep it organized by dropping in small organizing bins labelled for specific items – keys, pens, cords, batteries, etc.
Repurpose that old horizontal CD rack by using it to store plastic lids in the cupboard or pantry.
Stand frozen bags upright in bins in the freezer to make them easier to see. This also provides more freezer space.
Pantry
Use clear canisters or glass jars in the pantry so you can keep a close eye on staples like flour, pasta and cereal and can make note of when you're running low and need to add things to the shopping list. And if you've room, store your canned goods sideways in wire baskets so you can easily see what you have.
Have a deep drawer that you either aren't sure how best to use or avoid using because you end up having to dig for things? Turn it into a storage depot for your root veggies: buy bins to fit and then label them accordingly (ie potatoes, garlic, onions).
Closets/Bathrooms
Over the door racks: we can't say enough about these wonderfully inexpensive additions that immediately add some extra space without taking up, well, extra space. Just like that, you've now got a place for bedding in the linen closet or extra towels for the bathroom.
Speaking of the bathroom, we know they can be busy places in the morning. Making it easy for everyone to find what they need can be a challenge with limited space. Add narrower shelving that's been cut to fit, which adds extra space for towels, toiletries and other items. In the closet, keep scarves or belts organized and within easy reach by using shower hook rings on a hanger.
Try Marie Kondo's method of file folding where clothes like T shirts, jeans and other pieces are folded and stored upright – rather than laid flat or stacked – so that you can see everything, making getting dressed in the morning that much easier. Some people prefer to lay out their clothes the night before. This can be a big timesaver if your school-age children don't wear school uniforms.
Unused Space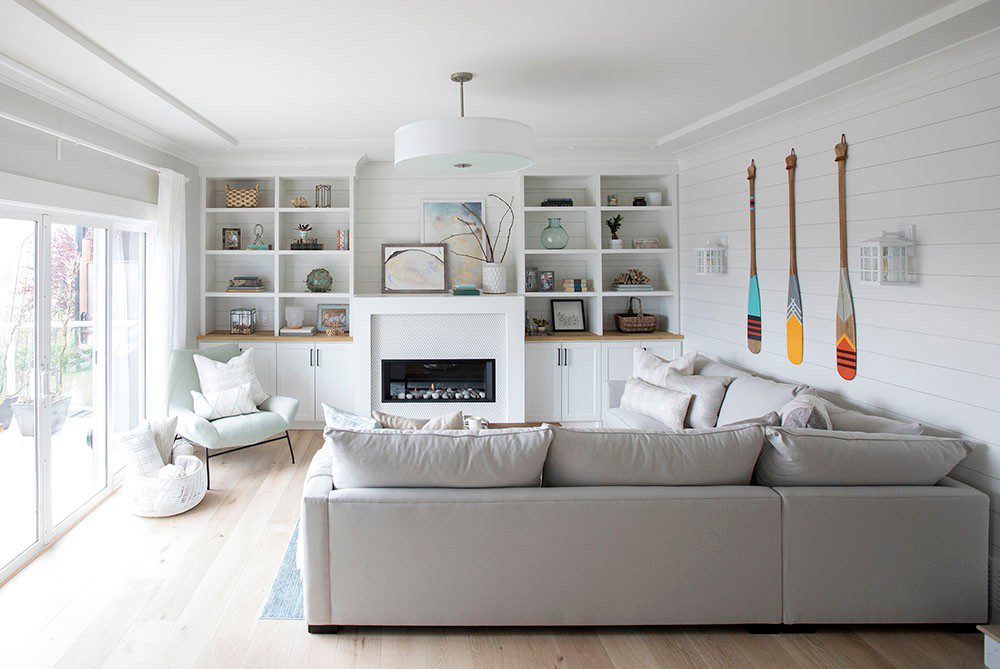 Clear out clutter and make going from one room to another as simple and effortless as possible. If you're looking for a place to put those items that you don't use very often, utilize the dead space above the doors in your home. Installing some simple shelving can open up many options for you: games, toys, blankets, seasonal clothes and other items can be stored as is or in baskets. And if you've got some wall space, consider adding some built-in shelving or wall units to help keep floors and pathways clear.
Speaking of unused space, adding some simple shelving to the sides of counters, cabinets and kitchen islands keeps things off counters and tables while keeping them within reach. Depending on which room they're in, they can also be seen as designated spots for the young ones to put toys or books.

So there you have it: a few simple, cost-effective organizing tips and storage hacks that you can introduce to help make your family's fall routines easier and more productive.