Originally hailing from Calgary, these days Leanne lives in Whistler, B.C., where she spends her time shredding the untamed backcountry that Western Canada's winter wonderland is famed for.
All of that adventure however involves a lot of gear. From coats to gloves, via boots, boards and safety equipment – anyone who has spent any time on the mountain will no doubt understand the kind of clutter that comes hand-in-hand with outdoor adventure.
So when winter sports is a way of life, how do you organize your equipment to ensure that it doesn't take over your entire home?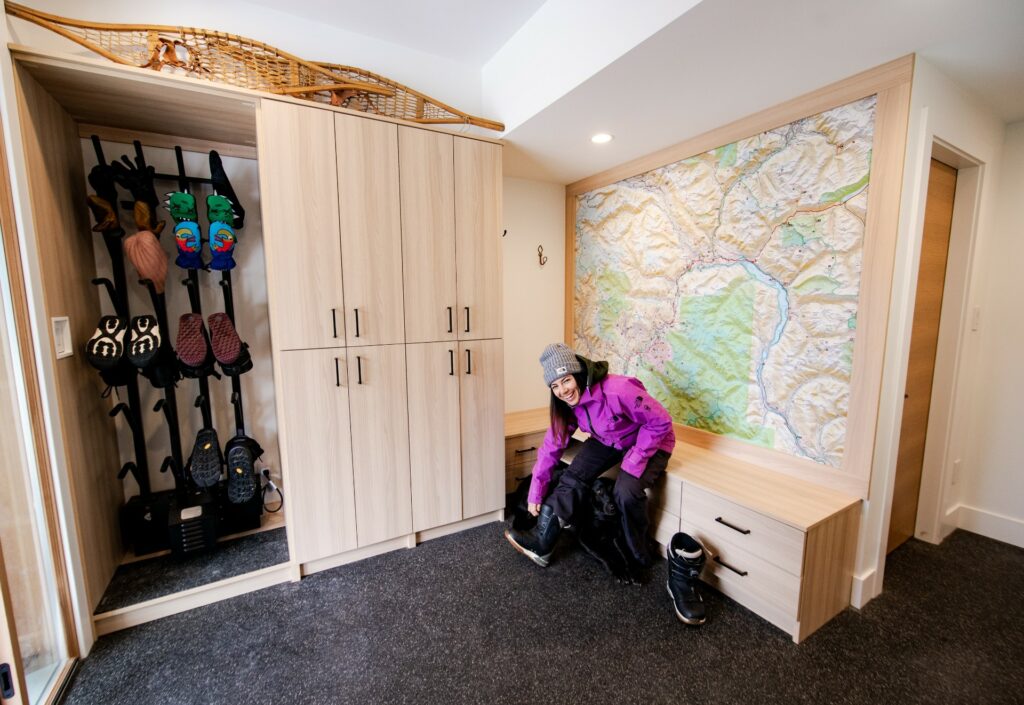 Bringing Order to Chaos 
Leanne and her partner had been building a new house in Whistler, but despite working tirelessly on the project there was one area the couple needed some help to complete – a dedicated "Shred Room" to store all of their winter gear.
They had already set out space as part of the design process, but when construction was completed it ended up being smaller than Leanne had planned, leaving her at a loss for what to do.
"I really wanted to create a space where we could come in after a day on the hill and dry out all of our snowboard gear," she said. "It needed to be a place where everything could be organized; where there was somewhere to dry our boots, our outerwear, our goggles, and all of the tools we use in the backcountry so that we could then enjoy the rest of the house without our gear ruining it."
An off-the-shelf mudroom just wouldn't cut it; instead, Leanne needed something that was specifically tailored to suit her unique needs.
Enter STOR-X consultant Carrie Lunn who worked hand-in-hand with Leanne to custom-build a solution just for her.
"We spoke to Leanne about her vision, talked about who she's bringing into the space, how many of them are taking their gear off at once and how much space you actually need to take your gear off," Carrie explains. "That may sound strange but it's an important consideration when it comes to a project like this, as winter coats are bulkier than the usual items you'd get in a mudroom so you have to account for that."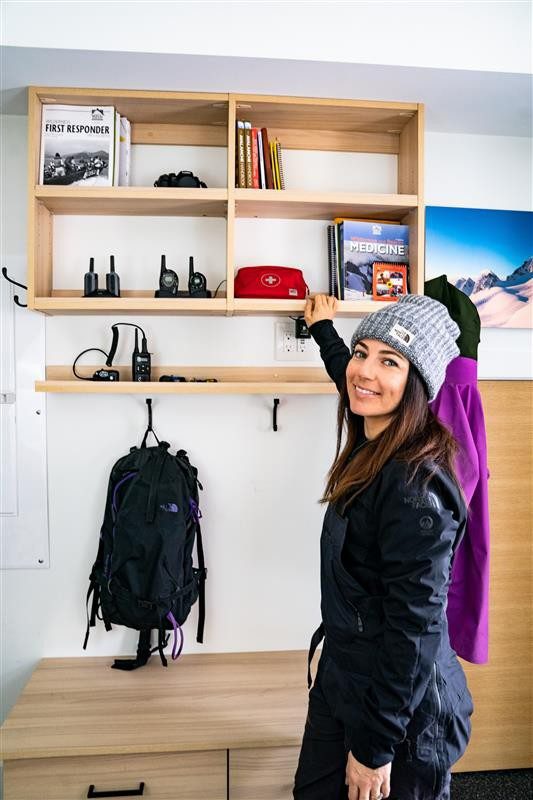 Going with the Flow
It was this kind of attention to detail that helped shape Leanne's Shred Room.
Alongside dedicated cubbies that house gear for each of the residents, there was also space that was custom-created for a boot dryer and for electrical equipment like radios that Leanne uses out in the backcountry. The design even made room for a map of Whistler Blackcomb, a finishing touch that also serves a practical purpose for a household who spend their days exploring this epic terrain.
But what went into the space was just one part of the puzzle; the key to the Shred Room's success was how it flowed.
"It's more than just giving you areas to put things, it's about making the space flow," says Carrie. "Even if you don't think about it at first, we all have a process when we come through the door, so we wanted to create a room that made sense in terms of what you do when you come in from a day on the hill."
The end result is a room that doesn't just organize all of the gear that Leanne needs for her adventures, it helps to bring clarity to her mind too.
"Removing the clutter in my mind is the most important thing," she says. "To be able to physically get organized, I have less worry in my life and so when I'm in the backcountry I don't have to worry about forgetting something. Organization is the starting point that sets me up for success for a good day on the mountain."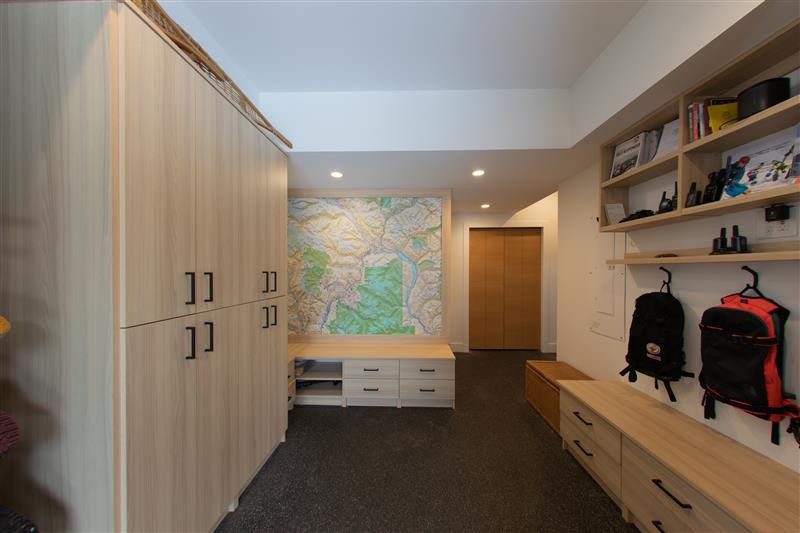 The Start of Something Bigger 
It took less than a day for Carrie to transform a blank canvas into a space that's been custom-built for Leanne's needs. And while the finished Shred Room looks spectacular, Leanne admits that she enjoyed the process of creating it almost as much as the finished product.
"Carrie and her team were just so lovely to work with," she says. "It was just awesome hanging out with them."
In fact, she enjoyed collaborating with Carrie so much that she's continued working with her on a host of other projects including a "rad little home office." She's even employing Carrie to help her make the most out of every inch of a 400 square foot cabin she's building in Ucluelet.
As Leanne explains: "Building a house is stressful, so to have someone to help with these little additions is the icing on the cake. It's just so nice to feel like your stuff is organized and the house looks prim and proper."